In SAC Case, Prosecutors Play Hardball With Former Manager
By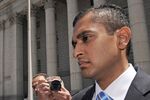 Prosecutors in Manhattan on Thursday filed a revised indictment of Mathew Martoma, the former SAC Capital portfolio manager charged last November with illegal trading of two drug stocks in what was billed as the largest insider trading case in U.S. history. The Martoma case forms a critical leg of the criminal securities fraud charges that were recently filed against SAC, the Connecticut hedge fund founded by Steven Cohen. This fresh Martoma indictment had been anticipated for several weeks and contains a number of intriguing new details, but it also underscores the government's awkward position in the SAC case.
Martoma has pleaded not guilty. Prosecutors badly need him to flip to help them build a case against Cohen, which has long been their goal. So far, however, Martoma has refused—even in the face of seemingly insurmountable evidence, if the charges are to be believed. This latest move suggests that prosecutors are going to keep coming down brutally hard on Martoma, a father of three, in the hopes that he changes his mind. His lawyer, Richard Strassberg at Goodwin Procter, didn't respond to a request for comment.
The indictment introduces a new character to the drama, a co-conspirator referred to as Doctor-2. He served as a clinical investigator for the drug company Elan, helping to test an Alzheimer's drug. Martoma arranged for paid consultations with Doctor-2 through a "financial services firm that provided expert networking services to the SAC Hedge Fund," the government alleges, and Doctor-2 then leaked confidential drug trial data to the SAC trader.
Doctor-2 joins Doctor-1, who was previously alleged to have given nonpublic drug trial information to Martoma. Doctor-1 has been identified as Dr. Sidney Gilman, a prominent Alzheimer's researcher at the University of Michigan. The indictment fills in a question that had been lingering around Gilman, who is cooperating with the government: It alleges that Martoma flew to Ann Arbor, Mich., for a day on July 19, 2008, to get his hands on a PowerPoint presentation from Gilman containing nonpublic drug trial results, which drove him to recommend that Cohen sell out of SAC's $700 million position.
A representative for Cohen and SAC declined to comment, and both the hedge fund founder and the firm have said they did nothing wrong.
The indictment says that Martoma should forfeit all property, "real and personal, that constitutes or is derived from proceeds traceable to the commission of the securities fraud offenses." The document lists $9.3 million, the amount of Martoma's SAC bonus for 2008; his home in Boca Raton, Fla.; $3.2 million in a bank account; $245,000 held under his wife Rosemary's name; and $934,897 under the Mathew and Rosemary Martoma Foundation.
The message is clear: Work with us or we'll take everything you have.
Before it's here, it's on the Bloomberg Terminal.
LEARN MORE