GWU Business School Dean Ousted
Louis Lavelle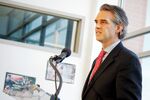 Doug Guthrie abruptly departed his position as dean of George Washington University's School of Business yesterday following disagreements with university leaders about how the school should be run.
In an e-mail to faculty, Provost Steven Lerman said that "fundamental differences about financial and operational performance were significant enough to warrant a change in leadership." University spokesperson Candace Smith told the university's student newspaper, the GW Hatchet, that "issues were discovered" when the university closed out the fiscal 2013 books, but that the business school is financially healthy. "The administration and Doug Guthrie have been unable to reach a common understanding of how the business school should operate in the future," Smith said.
University spokesperson Michelle Sherrard declined to elaborate, and Guthrie did not respond to a request for comment.
Guthrie, who was also stripped of his university position as vice president for China operations, will remain at the business school as a tenured professor. Philip Wirtz, the business school's vice dean of education and programs, will oversee day-to-day operations until an interim dean is named. A national search for a permanent replacement will be undertaken. Lerman met with about 60 business school faculty yesterday afternoon after announcing Guthrie's departure.
Guthrie was named dean of the B-school in 2010, replacing Susan Philips, who retired after 12 years at the helm. He was named vice president of China operations in April and had been overseeing the university's ambitious growth plans in the country, including agreements for advanced degrees with the Sizhou Industrial Park in Jiangsu and Renmin University of China. At the business school, he pushed through a suite of online programs—an MBA and three specialized master's degrees—as well as an undergraduate finance program that requires students to take a second major outside the business school.
He was also one of the university's most highly paid administrators, earning $532,464 in total compensation, according to fiscal year 2012 tax filings cited by the Hatchet.
While George Washington's full-time MBA program was little changed in the Bloomberg Businessweek rankings after Guthrie took over, rising two spots to No. 54 in 2012, its undergraduate program fell for three consecutive years, from 51 in 2010 to 71 in 2013. The undergraduate program has been plagued by turnover, with three top administrators leaving last year.
Join the discussion on the Bloomberg Businessweek Business School Forum, visit us on Facebook, and follow @BWbschools on Twitter.
Before it's here, it's on the Bloomberg Terminal.
LEARN MORE