Chris Paul Picked to Head a Fractured NBA Players Union
By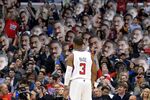 The National Basketball Players Association announced on Thursday that it has elected Los Angeles Clippers point guard Chris Paul as its new president. Paul, who replaces Derek Fisher of the Oklahoma City Thunder, arrives at a delicate time for the union. Longtime executive director Billy Hunter was fired in February after an audit found he'd been funneling business toward family members, and he is now suing the union for allegedly engaging in secret negotiations with owners to end the NBA lockout in 2011. League MVP LeBron James recently considered a bid for the president's seat before deciding he didn't have time. James told reporters he thought the union was "going backwards" and "not in a good place right now."
For perspective on Paul's election and the current state of the NBPA, Bloomberg Businessweek checked in with Danny Schayes, an 18-year NBA veteran, former NBPA representative, and former executive director of the retired players association, who has his own history with Hunter.
What do you think of the choice?
I think Chris will be a great choice. There has always been this conversation of whether the president of the union should be a really high profile guy or kind of a rank-and-file guy. On the one hand, the perception is you want a guy who is secure enough in his career that he can't be pressured. If you have a rank-and-file guy, there is always the risk of a team saying, 'Well, you pissed us off, you won't get another contract.'
The flip side of that is the guy has to be somebody who understands that he represents 450 guys, not 12 superstars. It's great that you have a real high-profile guy, as long as he's also a guy who gets it for the other guys. And I think Chris is that guy.
LeBron James said he shied away because of the time commitment. Is that part of the reason that rank-and-file guys have often filled the role?
That is a big part of it. This is one of those jobs that can be consuming, especially in the current environment. They have got to not only pick a new executive director but also really redefine who they are as an organization. That takes some effort. That takes a guy who is going to go out and talk to teams, talk to media, talk to NBA people, talk to sponsors. The guy who comes in now will have even a bigger burden than typical because there is so much that has to be done. In some ways they are kind of starting over.
How many hours a week are we talking?
It's a lot of binge and fast. When he starts, he's going to be in a binge phase because they are looking for a new executive director. And then there may be two or three months where there is not much for him to do, other than monitor the selection process.
Once the games start, he may say "Hi" to the visiting team and do a little meet-and-greet and let them know what's going on. These things have a way of expanding, once you get into it. You can always do more. It's a pretty time-consuming thing. 30 hours a week? Probably not. But he'll be doing something every day is my guess.
What does the president do, and d oes the job matter as much as the executive director?
The board president is a hugely powerful position but relies heavily on the executive director because he is the professional. It's a little upside down in sports organizations. Typically in a board-run organization, the board members are very high-profile, successful business types. In this and other sports organizations, the power lies with—you want to say, the more "unsophisticated" guys. Because they run the show. And that's why it's so important to have a powerful president who can understand how the gears turn and communicate that with the players and oversee what the executive director does.
Remember, too, the president of the board has the power to hire and to fire. The executive director and the staff still answer to the board. Billy [Hunter] kind of ran it backwards where he was the power and kept the players from knowing what was going on.
Does a guy like Paul have more clout because he's a guy that owners know fans pay to see?
If you really understand how the negotiations work, the real power the players have is solidarity. The rest of it, frankly, is a smokescreen. The owners just want to know if the players are together. If the players are together, there is power there. Otherwise the owners will dictate the terms.
Do you think non-supertar players will trust Paul to have their interests in mind?
I think so. I ran the retired players association. We did an event with Chris in L.A. at the All-Star game, a golf tournament with him and his foundation. So I know that he is a guy who is not only active in the community but a well-liked guy. Everybody loves a pass-first point guard.
Is the union in crisis right now?
Yes. The union is in bad shape right now. It's fixable based on what they do next, but they are in a big load of mess right now. Billy is not going away. Whether this lawsuit turns into something excruciating or not—whenever it gets into lawyer's hands, anything can happen.
So it's more than just bringing somebody new in. It's arguably, nuke the whole thing and start over. My view is they've been going the wrong direction for a long time. That's what LeBron has been saying. The opportunity is for something very dramatic to happen to transform the way the business works.