Can Bo Xilai Be China's Comeback Kid?
By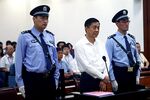 Has China's show trial gone off-script? That seemed to be the case yesterday, when the court hearing Bo Xilai's testimony posted real-time microblog accounts of the trial of the disgraced former Politburo member and party boss of Chongqing. Bo, the privileged son of one of Mao's comrades from the early days of the Communist revolution, was supposed to admit to his alleged crimes, including abuse of power and accepting millions of dollars in bribes.
"Even if the trial were public, we would witness no courtroom drama," China expert Minxin Pei wrote on Bloomberg View early this month. "Bo, who hasn't appeared in public since March 2012, will almost certainly be presented as a broken and penitent man," predicted Pei, a professor at Claremont McKenna College.
Instead, Bo on Thursday denied the charges and dismissed the evidence against him. After his wife, Gu Kailai, already convicted in an earlier trial, testified about her role in funneling bribes to him, Bo called her testimony "laughable."
While there was less drama today, Bo's combative performance on Day One may be enough for him to win something from a trial that's still assured of finding him guilty. What is Bo's strategy? He might just be trying to appeal to historians, according to Willy Lam, an adjunct professor at the Chinese University of Hong Kong. "This was quite a surprising performance," Lam told Bloomberg Television today. "By and large, I think Bo put up a spirited defense of himself. This is his last act for the history books, because it's most unlikely that he will be able to return to the political stage."
It might be too early to write off Bo, though. In China a purge is not always final. Way before Bill Clinton crowned himself the Comeback Kid by weathering reports of infidelity and still managing to finish second in the 1992 New Hampshire presidential primary, Deng Xiaoping showed how to stage a real comeback in politics. The architect of Chinese economic reforms was purged multiple times under Mao and still made his way back to the top.
Perhaps Bo has that kind of second and third act in mind. By insisting on his innocence and berating his critics, he may be trying to preserve for himself a political future. That's the take of Pei, who told the Wall Street Journal that Bo's defiance may have a political upside in the unlikely—but not impossible—event of the Chinese government later reversing course and clearing his name. "Had he appeared an abject loser, he would have destroyed any possibility of a comeback," Pei said. "He wants to show that his case is one of egregious miscarriage of justice."
Bo still has many supporters among ordinary Chinese, and he might be counting on them to believe that the government has singled him out as a scapegoat, since none of his alleged crimes are necessarily unusual for a Chinese official. In China the ruling class plays by its own rules, according to Fraser Howie, director at Newedge Singapore. "Let's be honest," Howie told Bloomberg Television today. "With charges of corruption and abuses of power, basically you would have every single leader in China—from the top right down to the local provincial village leaders—in court."
Before it's here, it's on the Bloomberg Terminal.
LEARN MORE