Will Customers Freak if Dunkin' Donuts Ditches Foam Cups?
The chain is looking for greener alternatives
By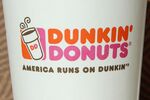 Dunkin' Donuts sells more than 1.7 billion cups of coffee around the world each year—and many of those are served in a foam cup. That volume of trash would make any environmentalist pop a vein, and the doughnut chain's disposable cups even became the topic of a Change.org petition that's drawn nearly 125,000 signatures.