The Numbers Behind UPS's Move to Cut Spousal Health Coverage
By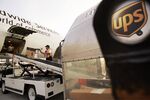 United Parcel Service will drop medical benefits for the spouses of its white-collar workforce who are able to get coverage through their own employers, according to a report in Kaiser Health News. The change applies only to spouses of nonunion employees in the U.S.—the company's 250,000 union workers won't be affected—and UPS expects about 15,000 spouses will become ineligible for health benefits as a result of the change.
Why drop coverage for the husbands and wives of employees who can be insured by their own employers? UPS pointed to the Affordable Care Act—or Obamacare—as part of the reason for the move, but a closer look at four numbers can help explain why the company wants to trim its spousal benefits.
Zero Percent: The amount UPS says workers' health premiums will increase in 2014, according to an employee memo published by Kaiser Health News (pdf). Employers can hold down premium increases by limiting benefits and pushing other costs on to workers, through higher deductibles, for example. UPS will also start charging smokers $150 per month—$1,800 a year—if they don't quit in 2014, according to the memo. (Obamacare actually increased the amount companies can charge smokers.) So by reducing spousal coverage and pushing premium increases to tobacco users, UPS can hold premiums steady for nonsmoking employees even as nationwide coverage costs are increasing by about 4 percent.
$49 Million: That's the amount UPS says its health and welfare costs increased in the first half of 2013, according to its latest quarterly filing. UPS spent $33 billion on compensation and benefits in 2012, the largest piece of its operating costs by far. The company blamed the increase on "higher medical claims and the impact of several provisions of the Patient Protection and Affordable Care Act." Limiting coverage for spouses is expected to save UPS $60 million per year, according to the Atlanta Business Chronicle.
Six Percent: The share of U.S. employers that didn't offer coverage to spouses last year, according to a Mercer survey of employers with more than 500 workers cited by Bloomberg News. UPS isn't alone in dropping spouses, even if its move has gotten more attention than most. Watch to see whether other large companies follow, or if a backlash against UPS persuades them to keep insuring spouses for now.
7.4 Percent: The U.S. unemployment rate is slowly coming down, but the American job market has been weak for half a decade. Companies offer health benefits to compete for talent, and when unemployment is high, employers have less incentive to offer generous benefits. In a stronger job market, companies might resist making changes that could alienate workers or put off potential hires.
Before it's here, it's on the Bloomberg Terminal.
LEARN MORE