The Kids Aren't All Right, and Neither Is Abercrombie & Fitch
by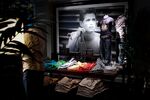 Kids these days—they're so poor and pessimistic!
That was the message this morning of a horrendous financial update from Abercrombie & Fitch. Same-store sales at the teen apparel giant, including Web commerce, slid 10 percent, and profit fell by one-third, to $11.4 million. Results were particularly bleak in the U.S., where revenue declined 8 percent; overseas sales actually rose 15 percent.
Despite a string of similarly dreary results from Target, Wal-Mart Stores, and Macy's, Abercrombie Chief Executive Officer Mike Jeffries said the summer business climate was "more difficult than expected," and he seemed baffled by the bad news. "The reasons for the weak traffic we've seen in the U.S. are not entirely clear," he said on a conference call this morning. "Our best theory is that while consumers in general are feeling better about the overall economic environment, it's less the case for the young consumer."
It's not that kids have turned fickle. Those who visited Abercrombie's stores spent at the same pace as they did last year. The problem is far fewer teen shoppers showed up.
Abercrombie's theory about hardscrabble kids may not be far off. Only about one-third of 16- to 19-year-olds had jobs this summer—that's down from almost half in the summer of 2005, according to Department of Labor data released this week. Accounting for how many of those teens actively tried to find work, the unemployment rate for the group was around 25 percent.
In the current labor market, as the Wall Street Journal noted recently, retailers, fast-food restaurants, and other employers offering low-skill positions have the luxury of hiring older workers with some experience. Here's how Paul Harrington, a professor of education at Drexel University, explained the dynamic:
"Kids are at the bottom of the labor queue, so if you don't get a strong recovery it just doesn't reach down to kids."
It's simple trickle-down economics. When the money doesn't flow far enough down the socioeconomic waterfall, no one is there to buy T-shirts with porcupines on them that read: "Do I make you thorny?" Of course, it's entirely possible that the porcupine-tee market has gone cold apart from teenage job woes. Maybe Abercrombie and its Hollister brand have simply fallen out of favor with its target demographic. So says Erik Gordon, a professor at the University of Michigan's Ross School of Business: "One generation of customers has moved on, and the next generation doesn't see Abercrombie as cool," he told Reuters (TRI).
Teens' financial struggles, however, seem to extend past any one brand. Aéropostale is also having trouble separating them from their lawn-mowing earnings and ice-cream-scooping tips: Earlier this month, the mall-focused retailer cut its outlook for the summer quarter and projected a loss. Yesterday, American Eagle Outfitters forecast third-quarter profit less than half of what analysts expected. "The environment has been extremely challenging," American Eagle CEO Robert Lee Hanson told analysts. "With high teen unemployment, there is intense promotional competition for every dollar."
In short: Keep buying those bonds, Mr. Bernanke. Do it for the children, who aren't much of the easy money these days.
Before it's here, it's on the Bloomberg Terminal.
LEARN MORE