MLB's Mets Sign Former Boston Red Sox Pitcher Daisuke Matsuzaka
Michael Sillup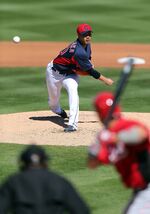 The New York Mets signed former Boston Red Sox pitcher Daisuke Matsuzaka to a one-year contract and made him the starter for tonight's home game against the Detroit Tigers.
The Mets, whose starting rotation has been hampered by injuries to Jeremy Hefner and Jenrry Mejia, announced the signing yesterday in an e-mailed release without giving additional contract details.
Matsuzaka had been pitching for the Cleveland Indians' Triple-A affiliate in Columbus, Ohio, where he was 5-8 with a 3.92 earned run average and 95 strikeouts in 103 innings. He has not pitched in Major League Baseball this season.
Matsuzaka, 32, joined the Red Sox in 2007 from Japan and signed a six-year, $52 million contract after the team paid $51.1 million for the right to negotiate with him. He was granted free agency after last season.
Before it's here, it's on the Bloomberg Terminal.
LEARN MORE