Innovation: Canary's Smart Home Security
The Canary home security device talks to your smartphone, and is about the size of a 24-ounce beer can
by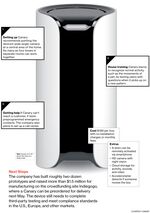 Innovators: Adam Sager, Jon Troutman, Chris Rill
Ages: 36, 30, 32
Co-founders of the New York-based startup Canary, maker of the home alarm system
 
Form and function: Canary, a home security device roughly the size of a 24-ounce beer can, monitors motion, temperature, humidity, air quality, and noise. It sends alerts and video footage to a user's smartphone when it detects something unusual.
Before it's here, it's on the Bloomberg Terminal.
LEARN MORE