How Washington Quietly Withholds Egypt's Military Aid
By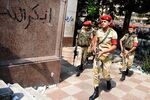 Ever since the Egyptian military ousted President Mohamed Mursi on July 2, the Obama administration has responded with a series of apparent wrist slaps: delaying delivery of fighter jets and helicopters, canceling joint military exercises, and issuing stern warnings to Egypt's generals.
As the death toll in Cairo rises, pressure has mounted for the White House to take a firmer stance and scrap the $1.3 billion in military aid the U.S. sends to Egypt every year. It's not only the moral thing to do, critics say; it's the only legal one as well. Washington cannot give aid to countries whose elected head of state is ousted in a military coup—a legal distinction the administration has been careful to avoid by declaring that the U.S. isn't required to determine if Mursi's ouster counts as a coup.
But rather than making a big show of canceling Egypt's military aid, which would carry huge international repercussions, the administration has been able to craft a more subtle approach, thanks to the way the U.S. actually disperses Egypt's aid. Just because it hasn't canceled the contracts to send weapons to Egypt doesn't mean American-made weapons actually have to be delivered.
Think of Egypt's military aid like a gift card. The U.S. doesn't actually give Egypt a direct cash payment every year. Instead, the annual $1.3 billion earmarked for military spending is deposited into an account at the Federal Reserve Bank of New York as part of the Foreign Military Financing program, which is run by a division of the Pentagon called the Defense Security Cooperation Agency. This year the DSCA will disperse a total of $5.4 billion of FMF funds to more than 70 countries, including Israel, Pakistan, and Colombia. Although the funds must be spent in full every year, Egypt's military is allowed to negotiate major arms purchases spanning multiple years worth of U.S. payments. Israel is the only other country given such flexibility.
Despite that flexibility, the DSCA keeps tight control over the entire process. The money never really leaves the U.S., since Egypt is forced to spend its FMF funds on equipment it buys from American contractors. The DSCA has to approve money spent on non-U.S. equipment, which it rarely does. Egypt decides what it wants to buy—jets, tanks, helicopters—and the funds are then dispersed over a set timetable to the American defense contractor building the equipment.
Here's the catch: Once the work is completed and the contractor is paid, it's up to the DSCA to deliver the equipment to Egypt—and right now, it's not delivering anything.
According to data tallied by Bloomberg, about half ($715 million) of this year's $1.3 billion has been paid so far to contractors, and yet the U.S. government is withholding delivery on a slew of items: 10 Apache helicopters made by Boeing; four F-16s made by Lockheed Martin; 125 M1A1 Abrams tank kits made by General Dynamics; and four fast missile craft made by VT Halter Marine.
It's this slight of hand that prompted the office of Senator Patrick Leahy (D-Vt.) to tell the DailyBeast that the Obama administration has secretly suspended military aid to Egypt.
This wouldn't be the first time the U.S. withheld military equipment it's sold to a foreign country. In 1972, Libyan President Muammar Qaddafi paid $70 million for eight C-130 Hercules aircraft. After political tensions arose and relations between the U.S. and Libya became strained, Washington simply decided not to deliver the planes. To this day the aircraft are still sitting outside Lockheed's plant in Marietta, Ga.
In 1990, according to Bloomberg Government defense analyst Kevin Brancato, the U.S. blocked the sale of about 70 F-16s to Pakistan already paid for with military aid due to Pakistan's nuclear weapons program. Twenty-eight of them had been built and went directly into storage at the Davis Monthan Air Force Base outside Tucson. Sales or transfers to other countries, including New Zealand, Indoneasia, Bosnia, and Taiwan, couldn't be arranged, so the U.S. Navy and Air Force simply used them as training aircraft.
The U.S. has similar options available regarding the delayed Egyptian equipment. According to Gordon Adams, who oversaw all FMF programs as a White House Office of Management and Budget official in the Clinton administration, the Pentagon could absorb the delayed equipment into its current fleet of tanks, ships, and planes, use them for parts, or simply find another buyer, likely another FMF country such as Pakistan or Israel.
By playing this more subtle game, the White House is able to maintain the one bit of leverage it has over Egypt's military while not actually providing them any more weapons. There are other considerations as well, says Adams, particularly the special access that Egypt grants the U.S. military to the Suez Canal, which allows U.S. ships to jump ahead of commercial cargo to get from the Mediterranean Sea into the the Persian Gulf. "Egypt is a damned important staging ground for the U.S. to project power in to the Middle East," says Adams. "The U.S. has every reason to tread carefully."
Before it's here, it's on the Bloomberg Terminal.
LEARN MORE