'Holy Grail' Business Owners Spurn Eager Bankers
by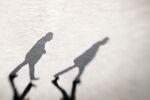 When Amy Baxter attends medical conferences or sets up her booth at trade shows, she is often bombarded by would-be financiers. "They almost look embarrassed about having to be soliciting me; there's a little sheepishness," says Baxter, a pediatric emergency room doctor and chief executive of MMJ Labs in Atlanta. She is also regularly approached by bankers who "want to talk about our financing needs," she says. "When we say we're not interested, they either look superior or kind of sad—like they keep hearing the same story."
Baxter spurns her eager suitors and says she has yet to tap the line of credit she established in 2011 with Chase Bank, where she does her business banking. A pain researcher, in 2006 she invented Buzzy, a reusable medical device that mitigates needle pain in children and adults. She financed its development with a $1.1 million SBIR grant from the National Institutes of Health in 2009 and the operation became profitable in 2010, her first year of sales. The six-employee company that started in her basement has brought in about $600,000 in sales so far in 2013, she says.
Mixed messages abound as to whether small business owners can get the credit they need, post-Great Recession. Some analyses point to bank lending remaining anemic, while others present a rosier picture. Businesses that maintained income-to-debt ratios "well above 1.25, as well as maintained adequate collateral, such as real estate, [became] the Holy Grail of business lending and—through the competition among lenders—received loans at favorable rates," says Jesse Torres, president of Pan American Bank, a community fixture in East Los Angeles.
What's clear: Small business lending tanks during down times, when lenders' preference for safe bets intensifies. This means that during busts and subsequent recoveries, a relatively tiny group of small businesses fend off attractive offers from lenders, while others find credit lines canceled and loan applications denied.
Exacerbating the current situation: Lending criteria has tightened considerably since 2007, according to Ed Harycki, a veteran small business lender and founder of cash-advance provider Swift Capital, based in Wilmington, Del. "From 2005 to 2007, small business owners who had FICO [credit] scores around 660 or 680 could get funding. Now, 50 percent of those businesses would not qualify for loans because banks have raised the bar so much. You're not getting funding now, with standards as tight as they are, unless you have a solid business track record and a personal FICO score of 720 to 740," he says.
A common refrain from bankers: The industry has been eager to lend, but creditworthy businesses have been scarce. That's the message from Heather Endresen, a senior vice president who manages the Small Business Administration and government lending unit at Union Bank, which has over 400 branches on the U.S. West Coast. "But good loans have been scarce and it has been particularly hard to grow that side of our balance sheet—where we generate most of our revenue," she writes in an e-mail.
While the situation is improving—with the number of creditworthy business targets notably on the rise—many bankers concentrated on their best customers during the recession, says Cece Mitchell, senior vice president and SBA lending manager at Zions Bank, which is headquartered in Salt Lake City and has more than 500 offices in Western states. Like most banks, Zions's lending numbers dropped during the recession. "It was tough for many companies not to panic," Mitchell recalls. "All of them got lean really fast."
An additional entrepreneur who is part of the rarefied ranks running profitable, debt-free, risk-averse operations says, like Baxter, that he's often approached with offers he doesn't want. "The major thing I notice is that [the banks] want to give you credit specifically when you don't need it, and then when you actually do need it, they pull back on it," says Ian Aronovich, president and co-founder of GovernmentAuctions.org, a Great Neck, N.Y., business that compiles and sells information online about auctions of seized and surplus government merchandise.
"During the recession, we walked into our Chase Bank branch and they offered to double our $50,000 credit line—a line we hardly ever used—right on the spot," he says. His company, founded with a partner in 2002, turned down the offer. It brings in about $1 million in annual revenue and has no full-time employees other than its two principals, relying instead on offshore contractors, who do Web development and marketing, Aronovich says.
Among the beneficiaries of the credit crunch are cash-advance lenders such as Swift and Kabbage, which market online applications and quick loan-approval times for small business owners. (Depending on the provider, cash advance rates are roughly 1.5 times to 5 times above those of SBA-guaranteed loans; this article from last year describes one big bank's involvement with cash-advance providers.) "We're up 300 percent from last year at this time and 75 percent of our customers take out at least one advance," Harycki says. "They use it as a cash-flow tool and it works well for them."
The appeal of alternative lending will eventually spread to traditional banks, Harycki predicts. "In three or four years, the banks are going to license and partner with this technology and adopt this product, because well over 100,000 businesses every year are getting funding this way. And if you're a company with revenue less than $2 million, the market still has not opened up in terms of bank lending."
Before it's here, it's on the Bloomberg Terminal.
LEARN MORE