Harvard Law Professor to Head India's Top B-School
Francesca Di Meglio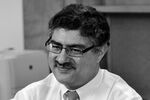 Ashish Nanda, a professor at Harvard Law School, jumped on a plane to India just three days after learning he had snagged the role of director at his alma mater, the Indian Institute of Management, Ahmedabad (IIMA). "I wanted to meet the people here to get a sense of the opportunities and challenges that lie ahead," he says, from India.
Unlike most new deans at top American business schools, Nanda, 53, says he doesn't have a laundry list of goals he'd like to accomplish. Instead, he's coming into this job with humility and a general sense of where he'd like the school to go.
Nanda officially takes over at IIMA on Sept. 2.
Recently, he discussed his new job with Bloomberg Businessweek's Francesca Di Meglio. Here are edited excerpts of their conversation:
How did you feel when you found out you got the job?
I had been a student at IIMA 30 years ago. I credit the school with helping me become who I am today. It feels like my life has come full circle.
Tell us about the Indian Institute of Management for those outside India who might not know much about it.
It is considered the top management institute in India. Annually, about 380 students enter the two-year PGP program, [which] is like an American MBA and is for students who are coming directly from undergraduate programs or have one to two years of work experience. We also have the PGPX program, which attracts about 80 students, who have seven or more years of work experience, and lasts one year, similar to MBA programs in Europe. A doctoral-like program and executive education round out our offerings.
Entry is enormously challenging and difficult. One of the biggest differences between IIMA and U.S. schools is diversity. When I'm in a Harvard class, it's like a meeting of the United Nations. Students also are academically diverse because they come from different industries. IIMA is limited mostly to Indian students and some from other emerging economies. I'm hoping that will change over time. We want to ensure that we still admit only the highest quality of student, but we must also seek those with diverse backgrounds.
Is there anything else you'd want us to know about the school?
It's a hidden gem, because not many people outside of India know about it. One reason the board approached me was to increase the international profile, so we could take what we believe to be our rightful place among the top schools the world over. We have terrific students, faculty, and staff. One of my primary jobs will be to create an environment in which they can continue to work to the best of their abilities. If they can do that, the institution will rise to great heights.
You have been at Harvard more than 20 years. How hard was it to say goodbye?
With Harvard, you never say goodbye. I'm on leave from Harvard Law School. I'm an executive education fellow at Harvard Business School. One of Harvard's strengths is that it helps you stay connected and makes you feel part of the family.
Join the discussion on the Bloomberg Businessweek Business School Forum, visit us on Facebook, and follow @BWbschools on Twitter.
Before it's here, it's on the Bloomberg Terminal.
LEARN MORE