Eddie Lampert Is Still No Jeff Bezos
by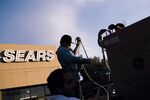 In its ongoing bid to become an Amazon-style marketplace, Sears's burgeoning Web store now carries 90 million items from third-party sellers—up 17 percent in the last three months. Move over Bezos: Here comes Lampert.
"If we leverage technology to provide our members with the easiest, most seamless shopping experience possible, we will be successful," Sears Chief Executive Officer Eddie Lampert said recently. So how's it going? Tough to say, really.
While Sears crows about its "Marketplace" strategy, and in the recent quarter reported a 20 percent increase in online revenue from a year earlier, it doesn't break out how much of that revenue is routed to outside vendors. And Sears refuses to say what percentage of its sales come from the Web in general.
"There's a ton of stuff on there, I just don't know what they're selling," says Morningstar analyst Paul Swinand. "And in the past I've thought, 'You've got to be kidding,' because stuff would come up that I'd never ever buy at Sears, like a Rolex watch." Although, the bigger problem, Swinland says, is that when he spot-checks prices, he typically finds they are lower on Amazon.
Meanwhile, the shopping experience still leaves a little to be desired. Sears pitches Marketplace as a platform to "get everything you want," but clicking through the "top categories" didn't turn up any TVs, laptops, or GPS devices (though Sears sells plenty of those things). The Marketplace also didn't show any matches for "camera's." That's not a sign that I'm bad at punctuation—it's a sign that the site's search algorithm can't account for human error. (Google (GOOG) doesn't have this problem.)
If Marketplace will become, in fact, the strategic coup Lampert makes it out to be, it's safe to say it has a long way to go. The online revenue jump was not enough to stall the company's losses, which expanded to $194 million from a $132 million deficit last year. Meanwhile, total revenue sank 6.3 percent.
Before it's here, it's on the Bloomberg Terminal.
LEARN MORE