Sligo, Ireland, Finds Working Capital in Its Couch Cushions
By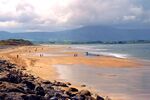 The Garavogue is not much of a river. It runs from Lough Gill in northwestern Ireland through the city of Sligo to a tidal estuary and, three miles later, the Atlantic Ocean. At Bridge Street in Sligo, the river is just deep enough to cast for salmon, which is what two boys were doing on Tuesday afternoon, without success. Behind them, and at three of the four corners where Bridge Street crosses the river, Sherry Fitzgerald Draper, a real estate agent, is advertising office space for rent. If it has to get worse before it gets better, it has definitely gotten worse in Sligo.
Money has to come from somewhere. During the boom years in Ireland, it came from bond investors, through Irish banks and into mortgages. That money's gone. It could come from a government running a deficit, but the Republic of Ireland, still operating under the watchful eyes of the International Monetary Fund, the European Central Bank, and the European Commission, doesn't have that luxury. Since the crash, the government has focused on foreign direct investment as a source of capital, with some success. This month Overstock.com, for example, announced 45 new jobs at a software development center in Sligo, far from the tech hub of Dublin.
But this is not enough good news. It's difficult, as an economist or a policymaker, to determine the exact difference between speculative investment and working capital, the loans that help businesses grow naturally to meet market demand. In Sligo, as elsewhere in Ireland and all over the euro zone, when the cheap money and the fast mortgages disappeared, so did all the working capital. Several business owners in the center of the city told me to ignore what I heard from Dublin. Banks are cranky and scared, they said, and credit is not to be had. The one new business on Bridge Street, a cell phone repair shop that opened this spring, bought stock and furniture with the owner's personal savings.
This leaves the Sligo Chamber and the Western Development Commission with a problem. These are the agencies charged with economic development for the area. Economic development, even of good ideas, takes money. But there's no money from Dublin for any ideas, good or bad. The Western Development Commission has 70 percent less money and 30 percent fewer employees than at its peak during the boom years. So the chamber and the commission have gone looking for capital, anywhere they can find it. And they have found it.
Early in the 2000s, the Irish government set up a venture capital fund for the west of Ireland, managed by the Western Development Commission. In 2012, the commission began turning its old equity stakes through the fund into new cash, then reinvested those in a new vehicle, the WDC Micro-loan Fund for Creative Industries. It's targeted toward artists and artisans in the region, to help them with microloans to find markets abroad. (Among its first round of applications, the commission heard from all kinds of businesses—septic tank distributors, for example—desperate for working capital.)
In 2011, a group of volunteers calling itself "Team Sligo" found 60,000 euros in donations from local bars and retailers, paid for focus groups in Dublin, and used volunteer copywriters and PR professionals to create a marketing campaign for the city. This year's effort, supported by 176,000 euros from the same local businesses and an EU regional development fund, has adopted the slogan "Sligo—Who Knew?" The city does not have working capital. But it does, it turns out, have a rich traditional music scene, truly stunning scenery, and an Atlantic-facing shallow beach with a consistent swell and overhead rollers. (Overhead rollers are good for surfing on.) The city was also home to William Butler Yeats, one of the greatest poets of the English language.
What Sligo doesn't have is a highway from Dublin, and the focus groups revealed that even the Irish had no idea what was up there in the northwest of their own country. Monday's front page of Western People, a local weekly, reported that traffic to Knock airport had wildly exceeded expectations this summer from Frankfurt-Hahn and London Stansted airports. Sligo. Who knew?
"I'd be scared of a big wad of money," says Paul Keyes, chief executive officer of the Sligo Chamber. "We need to get our structures in place." Tourism promotion in Ireland used to have a national theme, with Celtic crosses and the generalized nostalgia the Irish call "diddly-aye," run out of Dublin. But the tourists stayed in Dublin. The recession, says Keyes, has forced Ireland's west to find a message for the west. Barren. Lovely. Tuesday morning, I took a run along the ocean road, and an Audi with German tags pulled over to ask me a question. The driver, dressed in adventure gear, asked me whether I knew where he could find a grocery store. The money has to come from somewhere.
Before it's here, it's on the Bloomberg Terminal.
LEARN MORE