Obama's Fed Footprint Will Be Bigger Than Bernanke's Heir
By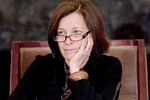 The Federal Reserve is a little bit like a Supreme Court of Money, except that the justices—er, governors—aren't appointed for life. They serve staggered terms of 14 years, and many step down before their terms expire. That means every president gets a chance to influence Fed policy through strategic appointments to the Board of Governors.
So while all eyes are on the possible successor to Fed Chairman Ben Bernanke—who will be conspicuously absent from the annual central banking conference in Jackson Hole, Wyo., starting Thursday—Obama will have other openings to fill. "Between three and five Board of Governors positions are likely to open up over the next year or so," Bank of America Merrill Lynch economists Michael S. Hanson, Bin Gao, and Adarsh Sinha wrote in a note to clients on Monday. "We see a high chance that the Board will be short-staffed for a time, but a low chance of a significantly more hawkish FOMC in 2014."
Today's board is solidly in Bernanke's relatively dovish camp. Minutes of the July meeting of the Federal Open Market Committee, which includes the governors and the regional bank presidents, were released today, and they show that "almost all" committee members said it was "not yet appropriate" to start tapering the purchases of bonds to drive down long-term interest rates. Policymakers remain "broadly comfortable" with Bernanke's plan to start reducing bond buying later this year if the economy improves, according to the minutes.
One obvious opening at the Board of Governors is for Bernanke's seat. While board terms last 14 years, chairman terms last just four. When he completes his second term as chairman this coming January, Bernanke will still have six years to go on his board seat, but he's widely expected to leave the Fed if he doesn't serve a third term as chairman.
Elizabeth Duke, a former community banker, is scheduled to step down at the end of this month. She's already living on borrowed time. She was appointed by President George W. Bush to complete an unexpired term ending in January 2012, and Obama has stretched out her tenure since.
Sarah Bloom Raskin, who was Maryland's top financial regulator before joining the Fed, has been nominated by President Obama to be deputy secretary at the Treasury and could be gone within months.
Jerome Powell's term ends at the end of January 2014. The former investment banker was appointed by Obama in 2012 to complete an unexpired term.
Finally, there's Janet Yellen. If she isn't picked to chair the Fed, she would probably serve out her term as vice chair through October 2014, but not complete her term on the Board of Governors, which goes until—gasp—2024.
Before it's here, it's on the Bloomberg Terminal.
LEARN MORE