Netflix's Latest Content Grab: All Weinstein Movies
By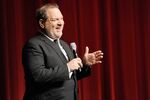 After its recent focus on children and original shows, Netflix is turning its attention back to bulking up its movie library for adults. The subscription-video company announced an exclusive deal with Weinstein Co. for the film producers' movie catalog starting in 2016.
The deal—much like recent ones Netflix has struck with DreamWorks Animation and Walt Disney—is designed to differentiate the service from what is available on rivals such as Amazon, YouTube, and Hulu Plus. Showtime was also bidding to continue its licensing deal for material from Weinstein, which has produced films such as Lee Daniels' The Butler, Django Unchained, and Silver Linings Playbook.
Terms of the deal were not disclosed—Harvey Weinstein termed it "probably the biggest deal" ever for his company—but Lazard Capital analyst Barton Crockett estimated that Netflix will pay roughly $30 million per year, based on a rate of 10 percent of box-office take for domestic pay-TV rights. Weinstein's box office averaged $277 million for 2011 and 2012. Netflix has 28.6 million U.S. subscribers, with rates starting at $7.99 per month.
The Weinstein deal, like the ones for children's programming, comes after Netflix made a large push over the past year to create its own new shows like House of Cards and Orange Is the New Black.
The exclusive deals also help the company bolster a streaming lineup that suffered several blows when it was outbid by rivals. In early 2012, Netflix lost access to some 2,500 titles from Starz, followed by a loss of A+E Networks' content nine months later. In June, Viacom signed an estimated $200 million deal with Amazon, giving that company exclusive access to 4,000 TV episodes, including Nickelodeon programming. Netflix gains DreamWorks Animation in 2014 and Disney films in 2017. "Over the next few years, Netflix's movie lineup, we believe, will become second only to HBO's in prominence and exclusivity," Crockett wrote in a note to clients.
Rich Tullo, an analyst with Albert Fried & Co., calls the deal "a decent idea" but signals a future weakening in the company's DVD business. Two years ago, Netflix made a disastrous bet that it could spin off its DVD-by-mail unit and push customers toward more streaming. "While not flashy," Tullo wrote yesterday, "DVD still drives Netflix profits and DVD margins, while in decline, are still greater than domestic and international streaming margins."
Before it's here, it's on the Bloomberg Terminal.
LEARN MORE