Imagine That, a Berliner Bought Art in Berlin
By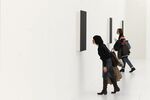 Visit Berlin's Mitte district, the city's celebrated arts hub, and you can buy cashmere children's sweaters or ice cream or hamburgers. Buying art in this art enclave is much trickier.
That's because there are far fewer galleries to choose from. Arndt and Partner , Esther Shipper , Jablonka Galerie , Galerie Berinson , and the office of auction house Philips , have all left central Mitte. A few have moved out of Berlin altogether.
The exodus from Berlin's gallery district isn't the familiar story about being victims of gentrification they helped advance. In other global art centers like New York's Chelsea and London's East End, mega galleries like Gagosian Gallery grow larger, and smaller galleries are priced out. Not so in Berlin, where rents are still comparatively low.
"You can open a gallery tomorrow, get a place in a strange building for 430 euros a month, and pick up an artist on the street," says Galerie Berinson owner Hendrik Berinson, whose gallery has relocated to a street in Berlin's Kreuzberg neighborhood. "It wasn't a purely capitalist decision," he explains. "The place was too small, and we had no storage."
But things have changed--or at least owners' understanding has changed since the days when galleries were compelled to huddle together, even if the spaces themselves were less than ideal. Today, what's clear is that buying art in Mitte is as unusual as it is tricky. No one really does it and foot traffic was never actually a determining factor in a gallery's success. So why suffer in a crummy space if location, location, location doesn't really matter, matter or matter, gallerists began to ask themselves (in not so many words).
"People don't wander in and buy a photograph," says Berinson. "That's not really Berlin. There are no real clients in Berlin."

At the same time, Berlin itself has changed, becoming one of Europe's top destinations for tourists, who just as willingly roam through many more city districts than they used to. "Ten years ago it was more interesting to be easy to reach and centrally located," adds Javier Peres, owner of Peres Projects , which used to have a space on Grosse Hamburgerstrasse in Mitte. "But for the foreign art audience, it's no longer a scary, or odd thing to come to Berlin and go to, say, deep Kreuzberg."
Instead, they rely on international clients who support their operations. That meant that, after getting their bearings in a new city, major gallerists began to look for spaces that better suited their needs. "The space for us is a showroom, and the business takes place completely elsewhere," says Peres.

Which also means that the decision to show art in Berlin is a question of personal preference rather than a business decision. "I'm in Berlin because I love living here and I like my life here," Peres says. "But," he adds, "the business is not here, and for us it's never been here."
For the rest of us, the art's still there to look at-- we just have to work a bit harder, and go off the beaten path to see it. And just wait: if the last five years' housing developments are any indicator, the ice cream stores and burger shops will soon follow.
James Tarmy reports on arts and culture for Bloomberg Muse, the arts and leisure section of Bloomberg News.