pursuits
Fox Sports 1 Stumbles Out of the Gate
Twenty-four hours is a lot of time to fill
By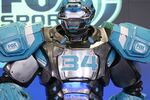 Halfway through the premiere episode of Crowd Goes Wild, the weekday afternoon sports-chat hour starring Regis Philbin on Fox Sports 1, the show cut live to Delaware for a harness race. One of the horses, the host had just learned, was also named Regis. The show had arranged the stunt as a surprise for Philbin on his 82nd birthday. So viewers watched, in split screen, as Regis the host watched Regis the horse circle a dirt track pulling a two-wheeled cart.
Crowd Goes Wild has been a centerpiece in the months of hype and bluster leading up to the launch of Fox Sports 1, touted as the most viable competitor yet to ESPN. Regis and friends were going to yuck their way to the top. On day one, however, the show didn't feel like an ESPN killer. It felt like a slow day at an off-track betting parlor with granddad.
According to Nielsen data gathered by Brad Adgate at Horizon Media, Crowd Goes Wild reached 74,000 viewers on Monday. The hour-long broadcast has two ESPN competitors in its 5 p.m. time slot: Around the Horn at 5 and Pardon the Interruption at 5:30. The former, which features four sports columnists yelling about the day's controversies, averaged 606,000 viewers over the last four weeks. The latter, which features two former sports columnists calmly discussing the day's controversies, averaged 780,000. It's early, but Crowd Goes Wild has some catching up to do.
ESPN catches grief, sometimes from Fox, for its monotonous devotion to the likes of Tim Tebow and for hosting overheated, juvenile debates. Fox Sports 1 has positioned itself as the antidote, the place for gentler, more jovial sports conversation. In one Crowd Goes Wild segment, the cast—Wall Street Journal sports columnist Jason Gay, former NFL defensive end Trevor Pryce, comedian Michael Kosta, and former Sky Sports host Georgie Thompson—took turns introducing viewers to under-covered stories deserving of attention. (Two cheers for Aston Villa goalkeeper Brad Guzan!) In another, called "Pardon the Contradiction," one person would argue both sides of a controversy. (Get it?)
The trouble with zigging when ESPN zags is that the network has spent nearly 35 years learning from and training its audience. Its conventions, however obnoxious, are there for a reason. ESPN viewers know where to look for scrolling scores and where to look for which highlights are coming next. For Fox, the safer course is probably imitation, with a few variations here and there. This is the course the network appears to be taking with Fox Sports Live, its rival to ESPN's flagship SportsCenter.
So far, Fox Sports Live hosts Jay Onrait and Dan O'Toole (poached from Canada's TSN) have offered a passable rendition of SportsCenter circa 1994, when Dan Patrick, Keith Olbermann, and Kenny Mayne served highlights with heavy doses of deadpan asides. The meta-commentary worked better back then, when the format was more of a novelty, but Onrait and O'Toole are steady hands. They perform the serious bits seriously and the routine bits routinely.
The rest of the show is still rocky. A permanent column down the right side of the screen sometimes shows relevant stats and sometimes random entries from the sports almanac. ("Born on this day: Davy Crockett.") Every few minutes, Onrait and O'Toole kick to a side studio where a panel of ex-jocks—Donovan McNabb, Andy Roddick, Ephraim Salaam, Gary Payton, and occasional guests—discuss the day's stories. The talk is mostly standard fare, but sometimes rises above. (Former MLB player Gabe Kapler on how Vegas is overrating the Los Angeles Dodgers is material you might actually crib at a bar.)
Fox Sports Live, again per Nielsen numbers from Adgate, drew 476,000 viewers for its Saturday debut; 120,000 during the 11 p.m. slot on Sunday, and 82,000 on Monday. The 11 p.m. SportsCenter averaged 750,00 viewers over the past four weeks. Fox Sports 1 is still a speck compared with ESPN. On Monday, its third day on air, the network averaged 68,000 viewers, compared with 1.5 million for ESPN.
But those numbers can be deceiving. Monday's ratings driver for ESPN was a preseason NFL game between the Pittsburgh Steelers and Washington Redskins that drew nearly 5.6 million viewers. The peak for Fox Sports 1 so far was a UFC Fight Night on Saturday that drew close to 1.8 million viewers. Eyeballs and money follow live events. Fox Sports 1 will rise or fall according to the games on the field and not the games in the studio.
Before it's here, it's on the Bloomberg Terminal.
LEARN MORE