Beer Giants Are Under Investigation for Price Fixing in Germany
Germany's Federal Cartel Office says top breweries may have fixed prices for nearly two decades
By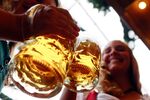 Top brewers including Anheuser-Busch InBev and Carlsberg are being investigated for allegedly fixing beer prices in Germany for nearly two decades, according to a new report by the German weekly Focus. The beer giants may face hundreds of millions of euros in fines.
Germany's Federal Cartel Office is scrutinizing roughly a dozen breweries, including family-owned businesses such as Erdinger and Bitburger Brewing Group, as well as multinationals Carlsberg and AB InBev (the maker of Beck's). Until recently, authorities suspected the collusion occurred only from 2006 to 2008. Now, a more than 100-page report, compiled by the Federal Cartel Office and shared with Focus, says the activity during those years was "most likely just the tip of the iceberg."
Carlsberg confirmed in an e-mail that it had been contacted by the authorities and said, "We take this matter very seriously." AB InBev pointed out that proceedings of the Federal Cartel Office are always confidential and declined to comment further. Erdinger and Bitburger also declined to comment.
During a Jan. 31, 2013, questioning, Volker Kuhl, head of the Veltins brewery, told investigators that during his 17 years in the business, premium beer brands regularly colluded to raise prices, speaking via telephone or at meetings. They then passed the information on to midsize and smaller producers. "Then it often came to a branchwide hike in beer prices," Kuhl explained, according to Focus. Similar claims were revealed by other leaders of brewing groups and associations, including, according to Der Spiegel, Bitburger, maker of the official sponsor beer of Germany's national soccer league, the Bundesliga.
Reports of widespread price fixing aren't the only instance of bad news for Germany's beer industry in recent years. National beer consumption is on the decline, and the number of German breweries has fallen by roughly one-half in recent decades, according to Slate. Germans have even coined a new word, brauereisterben, to describe this "brewery death."
Higher prices may have contributed to Germany's beer woes, but busting cartels may not solve that problem. "If they have to pay high fines and damages, the breweries will have to recoup that money somehow," one expert told German news channel N-TV (RRTL:GR). "That's why they won't lower prices."
Before it's here, it's on the Bloomberg Terminal.
LEARN MORE