Will Dodd-Frank Ever Be Finished?
By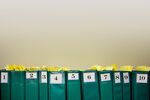 President Obama rounded up a bevy of financial regulators yesterday and pushed them to get busy finishing the rules laid out in the 2010 Dodd-Frank financial reform law. Many of the law's details still haven't been spelled out, years after its passage. Dodd-Frank was epically complex, and in honor of the law's third anniversary in mid-July, the law firm Davis Polk issued a report (PDF) summarizing its status. The firm found that regulators missed about 60 percent of the law's 279 deadlines; more than two-thirds of past-due rules are in progress but not final. Below, a tally of what's yet to be nailed down:
Mortgage regulations: Two major parts of Dodd-Frank tackle the mortgage market. One focuses on consumer protections, and the other oversees how Wall Street bundles loans into securities. Regulators are close to releasing a revised and slightly weakened version of the Wall Street rule, in a move that will bring it closer in line with the law's consumer regulations, which were finalized in January. Banks have asked for delays in implementing the consumer rules starting in the new year, but in an interview with Politico, Consumer Financial Protection Bureau Director Richard Cordray says that's not in the cards.
Derivatives: Slowly but surely, some of these regulations are starting to fall into place. According to the Davis Polk report, the U.S. Commodity Futures Trading Commission has made more progress than other regulators. It's finished 35 of its 43 new derivatives rules, and another four are already in the works. The Securities and Exchange Commission, which also has oversight over derivatives, is further behind on its to-do list, having finished only about a third of its derivatives rules.
The CFTC is steaming ahead with the rules it can complete on its own. By Sept. 8 all trades of certain interest-rate swaps and credit-default swaps must be run through clearinghouses, requiring parties to post collateral on the deals. In January about $250 billion of interest-rate swaps traded over CME Group's clearinghouse, and by June that number had quintupled to $1.25 trillion a month. One of the biggest outstanding debates came to a close in July, as CFTC Chairman Gary Gensler forcefully insisted that European affiliates of banks that also operate in the U.S. must adhere to the new rules. He relented some, granting an extension for complying with the rules and allowing banks, in some cases, to follow yet-to-be-written European rules instead of the new U.S. ones.
The Volcker Rule: This piece of the law, named after former Fed Chairman Paul Volcker, is intended to curb risky trading that banks make for their own profit. Banks strongly oppose it, and the rule's been tied up over exactly what constitutes forbidden proprietary trading and what's considered just a bank hedging its positions. Compass Point analyst Isaac Boltansky said in a note yesterday that the Volcker Rule faces the "longest road to finalization" of the big outstanding issues. It probably won't be ready until early next year.
Before it's here, it's on the Bloomberg Terminal.
LEARN MORE