pursuits
Urban Outfitters Chases Bohemian Shoppers Online
By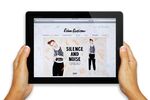 After a couple of years of falling same-store sales, things at Urban Outfitters—owner of Anthropologie and Free People, as well as the eponymous youth-oriented brand—are starting to turn around, helped by booming online shopping for hip threads like graphic tees and babydoll dresses.
Comparable retail net sales (which includes online sales) have grown for two consecutive quarters at all three brands, with a 5 percent bump at Urban Outfitters in the most recent period, a 9 percent rise at Anthropologie, and 38 percent surge at Free People. That's a lot of vintage-style fashion. Although the company continues to open stores around the world, Urban Outfitters cites the Internet as a particular focus and reports faster-growing sales online than in its stores. "We really started to think about ourselves as a pure play e-commerce company that happened to have really great, productive, differentiated stores in 500 locations around the world that's relevant for our consumer," said Matthew Kaness, chief strategy officer for Urban Outfitters, during a conference in June.
Each brand saw double-digit growth last quarter in direct-to-consumer sales, which includes website and catalog transactions, and the total number of direct orders rose by 40 percent. The Urban Outfitters brand, for example, now ships to 120 countries. To better manage inventory as online sales grow, the company has been fulfilling orders through its "pick, pack, and ship" program since last year, shipping products from stores, in addition to its fulfillment centers. At the same time, the brand also offers products online that are not in stores.
Other retailers catering to young shoppers are also focusing on the Internet. American Apparel, for example, experienced a comparable online sales jump, at 18 percent, while same store sales increased 6 percent last quarter. H&M just launched online sales in the U.S. this month.
One catch to the online business: Urban's shipping expenses currently exceed delivery income. Still, Chief Executive Officer Richard Hayne said the company is moving toward "fast and free" shipping and will likely absorb the cost as part of doing business. "When you think about the differential between direct-to-consumer and bricks and mortar, and you consider the occupancy cost of bricks and mortar," he explained, "you can afford to have quite a bit of shipping baked into every order and still come out ahead. And I think that's where we are on the scale." After all, little entices consumers to spend online like offering free shipping.
Before it's here, it's on the Bloomberg Terminal.
LEARN MORE