The Newest TiVo Cries Out for Cable-TV Partnerships
by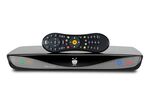 With its new line of Roamio digital video recorders, TiVo is making a play to wrest back the television experience from the commodified boxes every cable and satellite company now offers subscribers. But perhaps the latest in TiVo technology—complete with wireless streaming and searching—is better understood as an argument for partnerships with cable operators, which are struggling to wrangle their content into compelling, digestible packages.
TiVo's new boxes integrate live television, recorded video stored on a hard drive, and online video content—the so-called TV Everywhere approach the cable industry has been pursuing for years, in fits and starts. (Read TiVo's ultra-cheesy press release touting its technology at your peril.) The devices can send video from the DVR to a wireless tablet or smartphone, hence that oh-so-catchy moniker. The Roamio is available in three boxes that range from $200 to $600 depending on features, and the devices have garnered some early positive reviews based on their speedy new chips and greater use of high definition for the interface. It also includes a personalized dashboard to show current programs in favorite genres.
As advanced as TiVo's creation might be, it's not that different from some of the options coming from the top pay-TV companies. The Roamio offers many of the same features slated for inclusion in Comcast's new X2 set-top box, expected to be released widely later this year. That's why ultimately TiVo is likely to prosper only as a supplier of content navigation to the pay-TV industry's smaller players—the kind without the deep research and development budgets of a Comcast or Verizon Communications.
James Goss, a senior analyst with Barrington Research Associates in Chicago, said TiVo's latest DVR line could help smaller pay-TV players match the offerings of the industry's giants. "This latest set of TiVo devices create a competitive offering … that enable smaller market customers served by many of the TiVo video service provider clients to enjoy experiences that are similar to if not better than those experienced by large market subscribers of top end video providers like Comcast and others," he wrote in an e-mail. Earlier this year, Brean Capital analyst Todd Mitchell suggested TiVo might become the user-interface provider for Charter Communications, the nation's fourth-largest cable operator.
TiVo is getting to the point where it needs more partnerships. The company still has about 1 million subscribers using its branded boxes, down 14 percent over the past two years—not a sustainable long-term trend for pure retail. In the first quarter, TiVo reported growth of 277,000 subscribers who use its software via cable-TV account, while losing 22,000 of its own.
In June, meanwhile, TiVo settled the last of its numerous patent-infringement lawsuits, agreeing to a $490 million payment from Motorola Mobility, Cisco Systems, and Time Warner Cable. TiVo waged battle in courts for nearly a decade and said it has collected about $1.6 billion from damage awards and settlements over the use of DVR technologies it had pioneered. TiVo shares are down about 11 percent this year, depressed by its continuing losses and the end of the patent litigation.
The Roamio enhancements could also help the cable industry slow the wave of consumer defections, known as cord-cutters. Each quarter, the industry loses hundreds of thousands of video customers as it slowly morphs into a provider of high-speed Internet access, and is widely derided by its customers for ballooning monthly bills and weak service. "TiVo is positioning themselves to enable cable operators to deliver more value to users, encouraging users to not cut the cord," Rob Sanderson, an analyst at MKM Partners, wrote in an e-mail. "The feature improvements of Roamio appear to be a large step in this direction." In his review of the new TiVo, technology journalist Nilay Patel also emphasized that the DVR will help cable customers "get more out of your expensive cable bill because you'll record and watch more interesting TV than before."
Before it's here, it's on the Bloomberg Terminal.
LEARN MORE