Straight Outta HTC: Beats Audio May Have a New Solo Project
by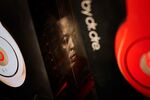 Beats by Dr Dre is looking to get out of its partnership with Taiwanese electronics maker HTC. According to an article in the Wall Street Journal, co-founders Dr. Dre (formerly of R&B outfit World Class Wreckin Cru and more notably, NWA) and Jimmy Iovine (the chairman of record label Interscope Geffen A&M) are seeking to buy back the 25 percent interest of the company owned by HTC. In the meantime, the article points out, the duo are in talks with a new, unnamed investor that can provide the capital needed for the brand to expand.
Beats sure does get around, doesn't it? This tie-up with HTC is third such partnership the company has been a part of since it was founded in 2008. First, Beats worked with Monster Cable. Then, in 2009, it collaborated with Hewlett-Packard. By 2011, HTC bought a 50.1 percent stake in Beats. Iovine and Dre bought back half of that interest in 2012, and they now seek to buy back HTC's remaining stake.
Tying your brand to another doesn't come without risks. Take the HTC investment when the company was still a force to be reckoned with: Just two years prior to the purchase, it was world's fourth-largest smartphone maker. By the time of the purchase, HTC was already slouching toward also-ran status. Production problems, a ramp-up in prices, and the departure of key staff has resulted in a tumble down the ranks of smartphone makers.
Meanwhile, Beats has continued to grow and now commands 59 percent of the premium headphone market, according to market researcher NPD Group. But the headphone market is limited, so Beats has been looking to other sources of revenue: There's a deal in place with Chrysler to provide in-car audio, and last July the company bought streaming-music service MOG.
Surely Beats needs cash to expand its business. It needs manufacturing capabilities and distribution to get more products into more stores. But cash doesn't have to equal brand affiliation. Beats could just line up wealthy individuals and/or private equity to get what it needs to expand. The company has managed to do something incredibly hard in short period of time: It has become a brand name. Given the track record of some of Beats' previous partners, it's probably better off on its own than tied to the fate of a company it can't control.
Before it's here, it's on the Bloomberg Terminal.
LEARN MORE