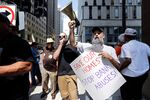 Monday brought the deadline to challenge Detroit's filing for Chapter 9 bankruptcy protection, and by the afternoon the court docket was "blowing up" with objections, as one muni market reporter put it:
The filings questioned whether Detroit had satisfied the three points cities must prove to enter bankruptcy: that it's insolvent, with nothing more that can be done to meet its obligations; that it's allowed to file for bankruptcy under state law; and that it tried to negotiate in good faith with creditors.
One of Detroit's two main unions was the first major creditor to file a formal objection, questioning the math behind emergency manager Kevyn Orr's controversial decision to consider the city's pension funds as unsecured creditors that could be forced to face cuts. Many pensioners didn't just let unions speak on their behalf—they submitted their own, personal objections, often in handwritten notes. The letters say that they depend on the pensions promised to them, that they turned down higher-paying job offers in the past because of the benefits, and that they rely on the pensions to meet their obligations. Here's a sampling of their pleas to the judge:
• Michael G. Benson said he is a retired employee of the city's water department and objected "to the use of the retires [sic] pension for any purposes other than retires [sic]," adding that "surely there are other options available to the city."
• Olivia Gillon, who said she had worked for the city for more than 30 years, wrote: "The City of Detroit has too many assets to be bankrupt. … If the Federal court allows our pension fund to be raided, it will open a flood gate for hundreds of other cities. … Please do not allow representatives of the City of Detroit to take retiree's pensions and declare pensioners just another creditor."
• Stephen Johnson, who said he was 73 and had worked for 22 years as a city boiler inspector, echoed that sentiment. "A reduction in my pension will place me and my spouse in hardship that may result in us filing for bankruptcy," he said. "We are not in the position as the City of Detroit, our debtor. Our debtor is able to generate revenue through levying taxes, collecting fines, selling assets, issuing bonds, receiving grants, and a host of other revenue producing means."
• Mary Dugans, in a handwritten letter, said she is a nurse who had worked for the city from 1964 to 1971 and from 1975 to 1984. "I need my pension for basic human needs," she wrote. "Additionally, I'm 80 yrs. old with age related medical conditions. Therefore, I have to pay for medical co-pays as well as for prescribed medications. Please consider my situation as you approach this important matter."


Before it's here, it's on the Bloomberg Terminal.
LEARN MORE