J.C. Penney Spreads the Blame in a Terrible Quarter
By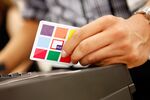 Myron Ullman has it made. His first quarter back at the helm of J.C. Penney could not have been worse. He could probably hit the golf course every day from now until New Year's and still come out looking like a genius, because he is taking Corporate America's version of a massive mulligan.
It would be hard for the company to sink lower, and at this point Ullman can still blame terrible results on the disastrous tenure of his predecessor, Ron Johnson. That's exactly what he did in a statement this morning.
"There are no quick fixes to correct the errors of the past," Ullman wrote. "That said, we have identified the challenges, put solid plans in place to address them and have experienced and capable people in key roles to do so."
He continued the blame-the-old-boss theme in a conference call: "Thousands of customers have told us they're excited that the J.C. Penney they love and appreciate is back."
So how ugly was the recent quarter? Paisley-velour ugly. Wool socks and sandals ugly. The struggling department-store chain posted a worse-than-expected loss of $586 million, widening from a $147 million loss in the same period last year. Sales plummeted 12 percent to $2.7 billion. Penney even managed to post a small decline in online sales, which is pretty tough to do with the rocket-fuel that social-shopping sites such as Pinterest are pouring into e-commerce.
Finally, profit margins tightened, too, as Ullman made good on his promise to bring back discounts, particularly on unwanted merchandise brought in by Team Johnson over the winter.
Just to be sure they had plenty of runway for the soaring results to come, Ullman and his team wrote down $47 million in restructuring and "management transition" charges.
While Ullman may or may not be the person to save Penney, he's looking pretty savvy so far.