Intriguing Fixes for the Long-Term Jobless
By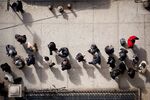 Three years past the official end of the recession, long-term unemployment remains a chronic problem: 4.2 million Americans have been unemployed for over half a year as of July, according to the Bureau of Labor Statistics (PDF).
To its credit, the Urban Institute hasn't forgotten them. Today the think tank released four analyses of long-term unemployment, looking at who suffers from it, what causes it, what its consequences are, and how to respond to it.
It's the fourth one, on policy responses, that I think contributes the most. Gregory Acs, director of the Urban Institute's Income and Benefits Policy Center, runs through the pros and cons of the whole gamut of ideas. Here's my quick synopsis:
Strengthening the economy. Kind of a no-brainer, right? Acs calls it "the most effective remedy." Three approaches to speeding growth are direct government spending on goods and services, including new infrastructure; increasing households' disposable income; and reducing the costs of doing business. Acs doesn't take sides on which would be most effective, although other research has found less bang for the buck from the third option, reducing the costs of doing business. He acknowledges that all three would increase the federal debt but says they could strengthen the economy for the long run.
Workforce development. Generally, Acs says, "the least educated and experienced workers" get the most benefit. Training that leads to credentials is often best, research shows.
Public works. Harking back to the Work Projects Administration and Civilian Conservation Corps of the Depression, Acs says they can work but can also "crowd out" work that could have been done by private contractors or municipal workers.
Hiring incentives. A payroll tax credit for hiring the long-term unemployed could boost their hiring chances, but could just displace other job seekers, Acs writes. Wage subsidies to induce the long-term jobless to take lower-wage jobs suffer some of the same problems.
Short-time compensation. This provides partial unemployment insurance to workers who had their hours reduced rather than being outright laid off. It can reduce the flow of people into long-term unemployment and has worked well in nations such as Germany, Acs says. One drawback: The programs "work best as an alternative to temporary or seasonal layoffs," not permanent discharges.
Reemployment bonuses and wage insurance. A bonus is a one-time payment to an unemployed worker who takes a job within a specified amount of time, and can keep people from getting stuck in a jobless rut. Wage insurance temporarily covers the difference between the new, lower wage and the one from the worker's last job. Acs says "the results have been mixed at best."
Expanding eligibility for unemployment insurance. This, Acs says, "could help the most vulnerable of the unemployed cope with material hardships." The same goes for food stamps, he says. While some economists have said that UI encourages laziness, Acs says new research shows that the work-disincentive effect "may be weaker than in the past."
Aid to neighborhoods. Aiding states, cities, and neighborhoods with high concentrations of long-term unemployment could help them maintain essential services such as schools, sanitation, and public safety, and add ones like mental health counseling and food pantries, Acs says.
With the Federal Reserve talking about "tapering" and Congress on track to cut the federal budget further, it's hard to see how any of these ideas will be put into effect. But it's good that someone is at least putting them out there for discussion.
Before it's here, it's on the Bloomberg Terminal.
LEARN MORE