pursuits
How to Wire an Old Ballpark for Digital
Barb Darrow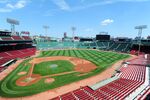 On Sunday night, when Red Sox pitcher Ryan Dempster plunked New York Yankee Alex Rodriguez in the back, it took about a nanosecond for the Fenway faithful to tweet their approval or outrage (depending on their allegiance.) But those in the park relied on relatively new cellular connections to do so. The future Fenway Park will offer fans Wi-Fi to accomplish the same thing.
To be clear, Fenway has Wi-Fi now, says Red Sox IT Director Steve Conley, but most of that capacity is soaked up by "back of office stuff"—press boxes, in-seat services, and the ticket gates. "It's a tricky proposition ,but every stadium will be a hotspot. It's just a matter of when and how easy it will be," Conley tells us.
Two years ago, the Red Sox installed Verizon Wireless's distributed antenna system (DAS) technology to accommodate all those smartphone tweeters in the stands, but even putting in that gear—and the Meru Networks routers for Wi-Fi—was a challenge for a ballpark that's on the National Register of Historic Places.
Conley has likened finding spots for all these connectivity points to an Easter egg hunt; if you've ever been to the crooked interior warrens of the park, you know what he means. "With these things, we just put them in a NEMA box and paint 'em green and find a place for them," Conley says.
The Red Sox' IT problem is not unique. Many companies are located in older buildings, constrained by their own walls and their environs. Face it: Even if the Red Sox did want to expand Fenway, the Mass Pike and Brookline Avenue that border its walls are fairly immovable objects. Given the space limitation, smart use of existing real estate for IT is very important.
That was apparent back in 2007 and 2008, when the Red Sox computer room sat behind the ticket office. "We were renovating and our need for technology kept growing, [but] it was clear we didn't have adequate power or cooling—this is a 100-year-old building," Conley says. Something had to give.
They sought alternatives for the IT build-out. Even though Conley is a "self-described server-hugger" who really did not want to put any IT off-premises, it was pretty clear that had to happen.
After checking out co-lo and data centers in and near Boston, the Red Sox decided to go with the Markley Group, with its shiny, expansive facilities atop the old Jordan Marsh (now Macy's) store a few miles away, in Downtown Crossing. "They blew us away. There was no way we could come close to what they provide, so my reluctance went away pretty quickly after researching the project and assessing the costs," Conley says.
The Red Sox still run that old computer server room and some on-premises applications—Microsoft Dynamics GP (Great Plains) CRM and EMC Syncplicity for advanced scouting video—but most core services run out of Markley. As of now, the team isn't using Markley's new cloud-based services, but that's always an option, Conley says . A further benefit of going with Markley or any peering center is that all the major telcos and pipes are there already, making for easy and fast interconnection to a variety of services.
The team also outsources a bunch of its other big workloads—Major League Baseball Advanced Media handles all its website-related stuff and Tickets.com deals with the ticket sales.
But when it comes to dealing with internal IT in a creaky, sometimes-flukey building packed on good days with 37,000-plus screaming Red Sox fans eager to vent electronically, Conley knows all-too-well that internal IT still carries the load.
Also from GigaOM:
Taking the Game out of Game Consoles (subscription required)
Islamist Hacker Publishes Access Details for Thousands of Twitter Accounts
Feds Seized $2.9M in Bitcoin Funds From Mt. Gox, Court Docs Show
How the Quantified Self Movement Has Weight Watchers Running Scared
Apple Betting That a Golden Touch Can Entice an iPhone Upgrade This Fall
Before it's here, it's on the Bloomberg Terminal.
LEARN MORE