Emerging Markets: A Contrarian Special?
by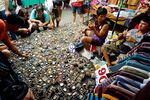 When the U.S. financial system crashed in 2008, market watchers were increasingly romancing the idea of a "decoupling" that would separate emerging-market fortunes from those of the subprime-hobbled U.S. Such economies as Brazil's and China's, the thinking went, had the demographics and national balance sheets to keep growing and wowing as America foundered.
Never happened. In fact, five years later, as China grows at its slowest clip in 13 years and India's currency and stock market plunge, investors are favoring U.S. shares over emerging markets by the most ever. The divergence of metrics is getting contrarians excited.
According to Bloomberg data, cash is fleeing emerging-market exchange-traded funds and flowing into U.S. stock funds at the fastest rate on record. $95 billion has gone into American share ETFs this year, while developing-nation ETFs logged withdrawals of $8.4 billion. Indeed, emerging market ETFs are working on their biggest annual outflow since Bloomberg began tracking the data in 2000.
BofA Merrill Lynch's monthly survey of investment managers discovered that emerging market equity exposure is at its lowest in 12 years, and the category is the most under-owned of all the asset classes and sectors it tracks. That flashes a buy signal to chief investment strategist Michael Hartnett.
The Standard & Poor's 500-stock index is trading at 16 times profit, 70 percent more than the MSCI Emerging Markets Index; the latter's multiple of 9.4 is close to its lowest since 2009.
"In many ways, investors in emerging markets have priced in a crisis event, even though no actual event has actually occurred, as in 1997 and 1998," says Michael Gayed, co-portfolio manager of the ATAC Inflation Rotation Fund, who thinks the sector is coiled for a big rebound. "If the markets of developed economies are indeed correct about future growth, it would be illogical to assume that their emerging-market suppliers do not participate and their stocks do not get pulled higher. With fund-manager allocations as low as its been in a decade, a lot of negativity has been priced in, especially relative to the U.S."
Bloomberg's polling of economists sees the U.S. economy expanding 3 percent in 2015, almost double this year's pace, while the combined gross domestic product of the BRIC countries (Brazil, Russia, India, and China) will grow at a rate of nearly 5.9 percent.
"The outflows occurring in emerging markets have more to do with the nervousness over less liquidity than the actual economic cycle," U.S. Trust's Chris Hyzy told Bloomberg's Lu Wang. "The bull market is alive and well."
Meanwhile, the chief executive officer of A.P. Moeller-Maersk, owner of the world's biggest shipping line, said concern that emerging markets are losing their growth momentum is overdone.
Contrarians can take further comfort from emerging markets' outsized volatility, relative to the U.S.: The S&P 500 is the calmest in more than six years, compared with China, Brazil, India, and Russia. The S&P 500's 30-day historic movement plunged 29 percent to 8.75 this year, while the measure for the MSCI measure of 21 developing nations spiked 83 percent to 13.3.
The last time U.S. shares showed such valuation-premium and volatility relative to emerging-markets was in the summer of 2004, when emerging markets went on to beat the U.S. by 29 percentage in the next 12 months, according to Bloomberg data.
"There are times when the market acts with certainty that all is awful," says Gayed. "Those tend to be good entry points over time. "
Before it's here, it's on the Bloomberg Terminal.
LEARN MORE