Baseball's Expanded Instant Replay Is an Advertising Opportunity
The break in the action is one more thing marketers can sponsor
by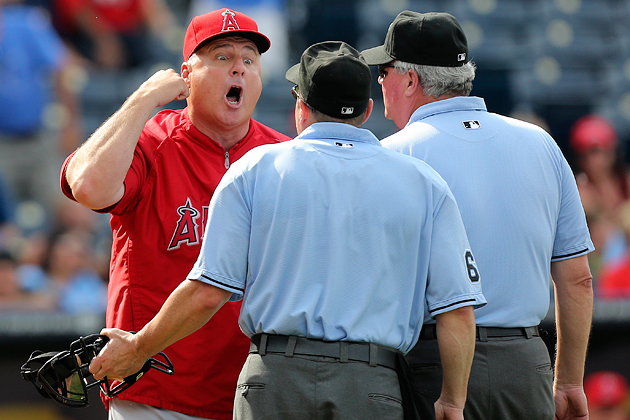 Last week, Commissioner Bud Selig announced that Major League Baseball plans to expand the use of instant replay to review umpires' calls beginning as soon as next season. The proposal still needs to pass muster with the players' and umpires' unions and then go before team owners for a vote in November. If it's approved, the system would create a new kind of interruption in the game. A call challenged by a manager would be reviewed by umpires watching replays in New York—a process MLB says would take a minute and 15 seconds. There's a potential commercial upside to the controversial move: That pause, like every other bit of spare time in baseball, represents a chance to sell advertising.
For fans at the ballpark or watching on TV, the instant-replay review could become, say, the Coors Light Silver Bullet instant-replay review. Spokesperson Mike Teevan said in an e-mail that MLB is still working out the details of the proposal and won't consider any business opportunities until after it's approved. But it's unlikely teams and their regional TV networks will wait too long before finding ways to sell. "It's the equivalent of the T-Mobile call to the bullpen," says Jim Andrews, head of content strategy for sponsorship consultant IEG.
Spots of this kind, says Andrews, can work to reinforce a brand's recognition among fans. And they are relatively cheap. "It will either be something a larger sponsor gets as part of their $750,000 or $1 million package as the official whatever of the team, or it could be a one-off," he says. On its own, a replay promo might cost five figures. "It's kind of the equivalent of buying another sign."
The best play for advertisers, says Andrews, would be to find some congruence between the review and the product. Cameras, phones, and other consumer electronics should pair well with super-slow-motion replays from every angle, he suggests, as would services based on speedy delivery. Because we're nothing if not helpful, we offer these five potential tie-ins:
1. Tide To Go Instant Stain Remover
Because life doesn't come with replays.
2. Budweiser
Take a minute to grab a cold one.
3. Samsung Galaxy S4 Eraser
Go back and fix it.
4. LensCrafters
See well. Look good.
5. Rolaids
Stop heartburn before it starts.
Before it's here, it's on the Bloomberg Terminal.
LEARN MORE