The Housing Market Is Hot, So Re/Max Is Going Public
by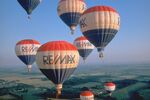 There's money to be made in real estate again, and one of the big names in the industry is eager to catch the boat. Re/Max Holdings, the franchiser of real-estate brokerages, filed papers today to go public, hoping to turn the rebound in the U.S. real estate market into a successful payday as a publicly traded company.
If it's completed, Re/Max's public offering would become at least the third big IPO in the sector in the past year. To review: Realogy Holdings—parent of Century 21 and Coldwell Banker—went public in October, raising more than $1 billion. The stock has gained 58 percent. Trulia went public the same month and raised more than $100 million. Its shares are up 172 percent this year. Shares of establishment player Zillow (IPO: July 2011) are up 214 percent this year.
Re/Max: Us too, please.
The company has more than 92,000 agents in some 85 countries and reported a 2012 profit of $33.3 million on sales of $143.7 million, according to the registration statement it filed today. The company is run by co-founders Dave and Gail Liniger, who started it 40 years ago in Denver. The company says it has been the top real-estate seller in the U.S. and Canada since 1999, deriving about three-quarters of its sales in America.
Re/Max is a slimmer version of its former self. Its agent rolls topped 120,000 in 2006, just before the worst U.S. real estate crash and resulting recession since the Great Depression; home sales fell 40 percent from 2005 to 2011. But that was then. U.S. home prices have been on a tear this year, rising in 87 percent of U.S. markets in the second quarter, as the number of buyers outstrips sellers in the market. The median U.S. home price rose 12 percent in the second quarter, to $203,500—the biggest increase since late 2005, according to the National Association of Realtors.
Re/Max plans a dual-class share structure that will allow the Linigers to retain effective control of the company—their Class B shares will have two votes to one for each Class A share. Such two-class voting structures have been popular in the technology industry, from Google, to Facebook, to Yelp, and appear to be increasing.
Before it's here, it's on the Bloomberg Terminal.
LEARN MORE