The Graying of Harvard Business School
Louis Lavelle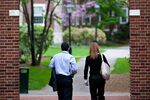 If you think you're too old to apply to Harvard Business School, think again. The percentage of older students at Harvard has been on the rise for at least two consecutive years, according to preliminary statistics about the latest incoming class.
In a recent blog post, Deirdre Leopold, HBS's admissions director, released the number of students in the last three incoming classes by undergraduate degree year. The data show that the percentage of incoming students who received their undergrad degrees at least six years ago increased from 20.8 percent in 2011 to 22.9 percent in 2012, and to 23.3 percent this year.
The most dramatic increase in this age group was for students who graduated from college a decade or more ago. The class that graduated in May had a dozen students in that category; the class that starts next month has 23.
Leopold maintains that the graying of Harvard is not the result of a "special agenda," adding that the school hasn't suddenly targeted older applicants or purposely admitted more of them. "It's the result of looking at these people one by one," she says.
The growing number of Harvard MBA students with more than a few years under their belt comes as the overall applicant pool for MBA programs is skewing younger, but it's hard to read much into that. According to the Graduate Management Admission Council, which administers the GMAT B-school entrance exam, the fastest-growing group is under 24. But 24 to 30, an age group that includes some B-school applicants with six or more years of postgraduate experience, increased 6.5 percent in 2011-12, when applicants would likely be taking the test for 2013 admission. The 31 to 39 age group was up 5.2 percent in 2011-12, while the 40-plus category was basically unchanged.
Leopold says drawing inferences from the GMAT data is difficult. "Maybe the applicant pool of people who want to go to Harvard is different from the applicant pool overall."
It's unclear whether other schools are seeing an increase in more-experienced students. Stacey Kole, deputy dean for the full-time MBA program at the University of Chicago's Booth School of Business, says about one in four students in Booth's incoming class has six or more years of experience, with eight students having a decade or more. She had no data for past years but said that Booth is not intentionally attempting to increase the number of older students in the program.
While the average age of Booth students has been 28 for quite a while, there really is no such thing as being "too old" for an MBA, she says. "If you have eight-plus years of experience and you think the MBA has passed you by, it hasn't," Kole says. "If you're a good fit for the school, you can get in."
Join the discussion on the Bloomberg Businessweek Business School Forum, visit us on Facebook, and follow @BWbschools on Twitter.
Before it's here, it's on the Bloomberg Terminal.
LEARN MORE