Stock Analysts Do Better Vertical Than Horizontal
A new academic paper suggests that studying supply chains, instead of competitors, makes for better stock forecasts.
By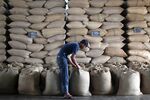 With their buy/sell/hold recommendations, stock analysts are key cogs in the machine that decides what publicly traded corporations are worth. Brokerages and independent research shops employ these men and women to be experts usually not just on a single company but on a whole industry. Analysts can become mini-celebrities on Wall Street for being accurate, articulate, or maybe just provocative.