Saks Sneaks Out Dismal Results Before Buyout
by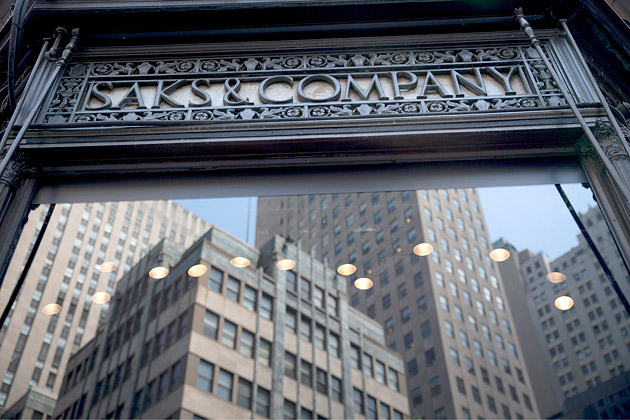 Saks had a really crummy summer and doesn't much want to talk about it, thank you very much.
The high-end department store chain surprised Wall Street this morning by reporting its recent quarter of earnings—or the lack thereof—a day earlier than planned, and the company decided to skip the usual conference call and forward-looking guidance. With a $2.9 billion acquisition by Hudson's Bay expected to close early next month, Saks seems willing to spare its shareholders and analysts additional insights on how things have been going. A look at the numbers, however, suggest that any closer examination of the past quarter would have been painful for Saks executives.
The company reported a slight uptick in overall sales, but losses widened to $19.6 million as managers aggressively slashed prices on menswear, handbags, and women's shoes to keep customers buying. Saks Chief Executive Stephen Sadove said in a statement that sales growth was "modestly below" Saks expectations. The only decent data point in the report was a 1.5 percent increase in same-store sales. That's a critical metric in the retail world, but revenue is fairly meaningless unless some profit is built in.
The earnings report was the latest in a string of disappointing financial updates from major U.S. retailers. Last week, Macy's cut its earnings outlook for the year and Wal-Mart did the same. Although home and car sales have been brisk, so-called discretionary spending has been fickle. Consumer sentiment dropped unexpectedly in August, retreating from its highest level in six years.
Some analysts have suggested stores catering to more affluent customers fared better in recent months. But this morning's report from Saks and a similarly sad update from Nordstrom last week suggest even companies selling four-figure Burberry trench coats and silver snakeskin handbags are struggling.
Saks shareholders, meanwhile, are happy to have the Hudson's Bay offer to buttress the stock this morning, even though the weak earnings numbers make it much less likely that a higher bidder will emerge in the few remaining days before the deal is final.
Before it's here, it's on the Bloomberg Terminal.
LEARN MORE