pursuits
On American TVs, English Soccer Scores on Empty Net
By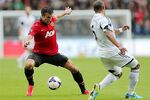 NBC's expensive bet on the Barclays Premier League may be a winner, if its opening weekend is any measure. The broadcaster served up three live games of imported English soccer to American viewers on Saturday, two on its NBC Sports and one on its primary network. The main-stage game featured five goals—four from Manchester United.
See, Americans: Scoring! A team you've heard of! If a nation of sports fans can forget about the 1-0 scrum between Fulham and Sunderland, importing the world's top-grossing soccer league to the homeland of the other football just might work.
The three matches drew a combined 0.5 rating, according to the network's preliminary estimates, a number representing the percentage of U.S. homes with a TV watching some of that soccer action. As a benchmark for comparison, NBC's America's Got Talent regularly draws an audience more than 10 times that size. The juggernaut of Sunday Night Football consistently grabbed more than 15 percent of TV households last year. Still, the rating marked a decent debut and an improvement on last year's Premier League opening weekend broadcast in the U.S., which garnered a combined 0.3 rating for ESPN and Fox Soccer.
The Manchester United game managed to capture almost 800,000 households, according to figures provided by NBC, surpassing the network's modest expectations for soccer played in the U.K. "In this business, we tend to be hopeful publicly but privately pessimistic," says Jon Miller, president of programming at NBC and NBC Sports. "With this we were very pessimistic internally, but it exceeded anything we could have dreamed of."
The Premier League is not new to the U.S. Fox has broadcast its matches for 20 years, and ESPN has bought rights to a few games as well. But the NBC deal was the first time a major network bet big on the league rather than cherry-picking major matches. NBC signed a three-year, $250 million broadcast deal in October that calls for live coverage of all 380 games—1,600 total hours of programming between now and May 11, 2014, when the season wraps up with a 10-match finale. The deal is roughly triple what Fox has been paying for U.S. broadcast rights, according to the Associated Press.
"Our pitch to the league and our pitch to our corporate parent was we were going to be all-in," Miller says. "We think this sport is very much on the rise. And we think we can catch it at the right time and make it really jump."
Plenty of other U.S. corporations are making similar bets. General Motors dropped its Super Bowl advertising last year in favor of sponsorship deals with Manchester United and Liverpool. In 2011, Under Armour, a company that got its start in football of the NFL variety, closed a five-year deal to outfit Tottenham Hotspur.
Posting a relative ratings success during the sports doldrums of mid-August, however, is a bit like scoring on an empty net. The big question is whether NBC's soccer offering can still exceed expectations when it's crowded by college football, playoff baseball, and the other all-stars of native sports. NBC, a unit of Comcast, is counting on Premier League superfans, including a population of about 5 million European expats living in the U.S. for whom the star players are more likely to be household names.
Can NBC win casual fans and viewers who couldn't care less about soccer? (Like the people who relate to the network's recent marketing spoof in which Jason Sudeikis plays an NFL coach taking the helm of Tottenham Hotspur.) NBC likes its odds. Because of the time change, weekend soccer coverage will be competing more with cartoons than with Notre Dame. The network plans to lure viewers who tune in early or those who tire of the blowhards on pregame shows. "I think this is going to be a very viral grow," Miller says. "People are going to be talking about it."
What's more, NBC isn't waiting for huge ratings before trying to win big ad dollars. While global brands such as Burger King and Anheuser-Busch InBev are on board, negotiations with other advertisers have been slow as the network works to establish "premium pricing." NBC hopes they call it the Premier League for a reason.
Before it's here, it's on the Bloomberg Terminal.
LEARN MORE