L.A. Condom Law: Judge Backs Safe-Sex Mandate for Porn Stars
By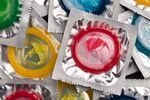 A judge in Los Angeles has a message for the the local porn industry: Wrap it up or take it out of town.
A voter-approved law requiring adult-film actors in L.A. County to use condoms received backing from a federal judge on Friday, in a case that weighed the public's interest in reducing sexually transmitted infections against the free speech rights of pornographic moviemakers. The condom law, enacted at the ballot box with 57 percent of the vote and backed by the AIDS Healthcare Foundation, also requires porn producers to get health permits from the county and provide training in disease prevention. The ruling applies for both vaginal and anal intercourse.
Adult film is a multibillion-dollar business in California, and porn makers have argued that condoms are a turnoff. "People don't want to see adult films where people are wearing condoms," Hustler publisher Larry Flynt told Bloomberg News in May. California lawmakers are considering a bill that would extend restrictions like L.A.'s throughout the state.
Two adult film studios, Vivid Entertainment and Califa Productions, and porn stars Kayden Kross and Logan Pierce challenged the ballot measure in January with a federal lawsuit. The argument against the condom rule raised two main points: The industry's testing regimen for sexually transmitted diseases already safeguards porn actors, and mandating condoms would be an unconstitutional restriction on free speech. Vivid plans to appeal, according to the L.A. Daily News.
The public-health issues behind the condom policy are real. L.A. County officials have recorded nearly 2,400 cases of chlamydia and 1,400 cases of gonorrhea among adult film actors since 2004, according to statements by Jonathan Fielding, the county's public-health director, cited in the judge's ruling; one in five performers diagnosed with an STI had repeat infections with a year. Those rates "are likely to be significantly underestimated as rectal and oral screening is not done routinely," according to Fielding's testimony. Measuring HIV infections among performers is harder because of the way the infections are reported, but the industry's testing group reported 25 HIV cases since 2004 that may have been current or former performers, partners of performers, or actors seeking to work in porn, according to the ruling.
Judge Dean Pregerson did agree with some of the industry's contentions that the ballot measure was too broad. One section discussing conditions that can cause infection to spread is written so vaguely that it "would seem to authorize revoking a permit if a cameraman were working with a cold," the judge wrote. He also struck down parts of the law that would let authorities search adult-film sets without a warrant and revoke permits if they suspected producers of breaking the rules. As the libertarian magazine Reason points out, that makes the condom requirement much harder to enforce.
But the condom rule survived the first court challenge. The AIDS Healthcare Foundation, which was granted the right to defend the provision in court as an "intervener" after the county declined to fight the challenge itself, praised the decision as "a tremendous, tremendous victory."
It's not clear whether the new rules have driven porn production out of Los Angeles or simply underground. While film permit applications by adult studios have almost disappeared, "they could be just not getting permits," Paul Audley, president of the nonprofit Film LA, told Bloomberg News in May. "It would be very hard for us to discover if it was still going on without permits."
Before it's here, it's on the Bloomberg Terminal.
LEARN MORE