Fixing the Disaster Loan Logjam Before the Next Hurricane Sandy
by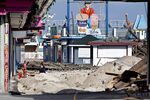 After hurricanes Katrina, Rita, and Wilma laid waste to the Gulf Coast in 2005, the average wait time for a Small Business Administration disaster loan was 61 days. By fiscal year 2012, the SBA had cut wait times by three-quarters. Applications related to Hurricane Sandy were another story, according to a report today from a federal task force, averaging 42 days from submission to approval.
What can the agency to do improve?
By a quirk of history, the SBA makes emergency loans to both businesses and homeowners whose property is damaged by natural disaster. Even renters can apply for low-interest loans from the SBA to replace lost property, and the SBA typically furnishes a lot more disaster loans for home repair than it does to get businesses up and running. As of July, the SBA had approved 32,000 Sandy-related home loans totaling $1.9 billion and only 3,900 business loans for $448 million.
That's all good—except when small businesses find their emergency loan applications buried under a pile of home loan paperwork. Here's how the task force described the problem (pdf):
Typically, small business owners first assess the economic damage to their businesses caused by disrupted supply chains, displaced consumers, structural damage, inventory loss, and a range of other complex factors. As a result, small businesses apply for disaster loans much later than homeowners and, if they are handled in the same processing tracks, usually face delays due to the large number of home loan applications filed ahead of them.
Easing that logjam matters, because getting fast access to cash is often a matter of life or death for small businesses after catastrophes. To that end, the task force recommended creating separate tracks for processing business and home disaster loans. Other recommendations: Expedite loans for applicants with strong credit profiles, improve training programs for loan officers, and tweak the definition of "small business" to include more companies.
The SBA has already adopted many of the recommendations that don't require regulatory or legislative approval and will create a separate track for small business disaster loans in future recovery efforts. Still, don't expect wait times to come plummeting down after the next disaster. The approval rate for Sandy-related SBA disaster loans was 53 percent as of last month. With so many applications and such varying quality, long waits for loan approvals may always be part of the rebuilding process.
And don't forget about the time it takes to disburse cash after the loans are approved.
Before it's here, it's on the Bloomberg Terminal.
LEARN MORE