Egypt's Markets Are Strangely Stable
by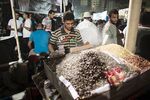 More than 1,000 people have died in Egypt in the past six days, but you'd never know it to look at the Egyptian stock market. Since June 30, the first day of mass protests that contributed to the downfall of President Mohamed Mursi, the country's two main stock market indexes are up 12 percent.
Not only that, but the rates the Egyptian government has to pay to attract buyers for its bonds have fallen slightly—a sign that global investors aren't panicking and demanding higher yields. The yield on one-year government bills today was 12.9 percent, down from 14.9 percent in late June.
Pretty surprising considering that much of the nation is paralyzed by a violent confrontation between the military-backed government and supporters of the deposed Islamist president.
"Usually markets fall on these things," William Jackson, emerging-markets economist at Capital Economics, said in an interview today with my Bloomberg News colleague Caroline Alexander. He speculated that investors are counting on the military government to keep key industries and the Suez Canal open, as it has in the past. Plus, it's August. "Trading volumes tend to be small," Jackson said, "so they may not have moved as much as they would have otherwise."
Oliver Coleman, Middle East/North Africa analyst at risk consultancy Maplecroft, agreed that the market's strength is "odd" but told Alexander: "It is probably that the people who control businesses in Egypt want the economy to go well and are happy the military is back in charge."
Tourism has been seriously affected by the violence, of course. Other industries, not as much. TransGlobe Energy, which produces oil in Egypt and has the dubious distinction of being the most-shorted energy stock in Canada, operates in the desert hundreds of miles from the scenes of violence. The company said it's been unaffected and is proceeding with plans to double oil output within three years.
Egypt's large textile sector is more urban and hence more vulnerable than oil and gas. Still, today in Cairo, Oriental Weavers was one of the top-performing stocks. It rose 4.3 percent and is above its June 30 level, after reporting that its second-quarter profit almost doubled.
One thing the military-backed government has going for it is the strong support of Saudi Arabia, whose rulers oppose the Muslim Brotherhood movement to which Mursi belongs. Saudi Arabia, the United Arab Emirates, and Kuwait have pledged $12 billion and delivered about $5 billion of it, according to state-run media.
Does that mean all is well in Egypt? Hardly. The government is getting low on foreign-exchange reserves and is alienating supporters such as the International Monetary Fund and the U.S. The longer the violence continues, the more damage it will do to the already stumbling economy. Says Maplecroft's Coleman:
"It is hard to see how the economy can maintain any decent level given the current situation. The curfew alone is causing problems to local businesses. Foreign businesses, Shell, General Motors, are closing down offices. Foreign investment has dropped significantly, and I can't imagine people will want to expand or start up there right now."
All of which helps explain why markets have become less exuberant in recent sessions. The EGX30 stock market index peaked on Aug. 13 and was off 6 percent by today. That softening could presage worse to come.
Before it's here, it's on the Bloomberg Terminal.
LEARN MORE