The Running of the Bulls Comes to Virginia Next Weekend
By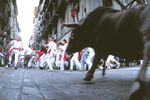 Here's an idea for next weekend if you want to make someone say, "You're gonna do what?" Modeled on the annual running of the bulls in Pamplona, Spain, an event firm is staging a Great Bull Run on Aug. 24 in Virginia, the first of 10 such runs planned through next summer. Two dozen bulls and hundreds of people who are obviously trying to give their mothers heart attacks will merge along a half-mile course, cheered on by hundreds of spectators.
The idea for the event came to Rob Dickens and his business partner as they were looking for ways to expand their 20-employee Boston business beyond its Rugged Maniac obstacle course, a five-kilometer run-slide-climb-slip-stumble-swim trek that has expanded to 20 markets nationwide.
Both had long wanted to join in the San Fermín festivities, Dickens says, but the high-season airfares and pricey hotels made the trip too expensive. Thus, if it isn't possible to visit Pamplona in July to run with bulls, maybe one could organize an exciting trot with a few at home. "We wanted to do something unique that nobody else was doing," says Dickens, 34, who worked as a corporate lawyer on Wall Street for two years before he quit to launch the 5K business. He describes his past career in financial contracts and other legal work as "thrilling—absolutely thrilling—if you get my sarcasm."
At the inaugural Virginia event in Petersburg, south of Richmond, the four planned bull runs will be followed by a tomato toss event, inspired by the annual Tomatina festival near Valencia, Spain. For $40 each, hundreds of people will hurl tomatoes at each other, although, it should be noted, this sort of veggie fun has already spread around the world and includes several similar U.S. events. (Also, fyi, it is much safer to take a tomato in the face than the horns of an irate bull.)
At $50 to $75 to enter, the Virginia run is expected to sell out, and Dickens says all the events are selling well. The next two runs are scheduled for later this year in Atlanta and Houston. More than 1,000 people have already bought $35 tickets for the 10th bull run, schedule for July 12, 2014, in Chicago, he says.
During the bull runs, some people will likely be injured—and none of them will stand a chance in a lawsuit, owing to a thorough liability waiver each participant is required to sign. The waiver runs to three pages and specifies, in capital letters, that "the event is a hazardous activity that presents a serious physical and mental challenge to participants." Among the serious and catastrophic injuries one may suffer: broken bones; torn ligaments; concussions; deep lacerations or puncture wounds; exposure; heat-related illness; mental stress or exhaustion; infection; permanent disabilities; damage to internal organs; spinal injuries and paralysis; stroke; heart attack; and death. "It doesn't prevent them from suing," Dickens says of the waiver, "but it does prevent them from winning."
Unlike the San Fermín festivities in Spain, made famous by Ernest Hemingway after his participation in the 1925 festival, organizers of the U.S. event say runners should not be drunk before the event—but it's not clear whether or how that mandate can be enforced. After all, the ticket does come with a free beer. Also, unlike in the Spanish festival, the U.S. bulls are not struck or prodded to run and are not slaughtered after the run. In fact, they're trained rodeo bulls worth about $10,000 each and will be trucked to the next event for more running alongside humans of suspect sanity. One set of bulls from a Kentucky farm will work the East Coast and Midwestern bull runs, while a second ranch in the West will supply bulls for West Coast runs, says Dickens.
Organizers say bulls run about a four-minute mile, leaving humans behind quickly, most scrambling for cover or a medic. The two dozen bulls will be released in three groups, 15 seconds apart. "Those who desire the most danger can stay in the middle of the track and attempt to dodge the bulls as they pass," according to the festival's website. Let us know how that works out.