pursuits
The Road to Fame in China
Christina Larson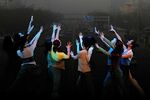 A generation ago, most jobs in China—including showbiz gigs—were allocated by the government. By the late 1990s, Chinese people had more autonomy to choose careers for themselves, but the state-dominated economy offered limited options. Fast-forward to today. In a culture steeped in social and globalized media, China's tech-savvy young people are exposed to, and dream about becoming, everything from actresses to lawyers, investigative journalists to porn stars. To be sure, few achieve their original dreams—and if they do, the reality might not be as they had once imagined it.
China's fledgling musical theater business is one crucible of youthful aspirations colliding with traditional aims for job stability. Each year, Beijing's prestigious Central Academy of Drama graduates about 60 students. Unlike in the past, graduates are not assured jobs afterward with state-run troupes. A handful of alumni have achieved superstardom in international films, among them sultry actresses Gong Li (Farewell My Concubine) and Zhang Ziyi (Crouching Tiger, Hidden Dragon and Memoirs of a Geisha). But a far greater number of hopefuls toil in obscurity and hardscrabble jobs in Beijing, onstage, or in fallback careers. The parallels with Broadway or Hollywood are resonant, but China's aspiring starlets face additional pressure from their families; most of those born in the 1980s are only children, shouldering alone their parents' dreams as well as their own.
In 2008, the Central Academy of Drama embarked on its first collaboration with Broadway: a co-production of the musical Fame in Beijing, starring its students. Independent filmmaker Wu Hao, who previously made the film Beijing or Bust, was there with a video camera rolling. Over the next year, Wu followed a handful of quirky and gifted students through the audition process and their performances in Beijing, then caught up with them three years later. Among these hopefuls, one was starring in small films and commercials and placing bets on the stock market; one had started a band and was touring across Asia, still waiting for his big break; and one was selling knockoff handbags to supplement her income as a production assistant.
Wu's poignant documentary, The Road to Fame, screened on Wednesday in Beijing. It will be shown at the Hawaii International Film Festival in October. He is currently negotiating distribution plans for mainland China. Wu, who was born in 1972 and grew up in the western Chinese city of Chengdu, sat down recently over coffee in Beijing to discuss how economic fluctuations shape creative aims in modern China.
Bloomberg Businessweek: The Road to Fame's dominant themes—that is, coming-of-age and reconciling dreams with reality—feel nearly universal. How similar is China's post-1980s generation to America's Millennials?
Hao Wu: A lot of the characteristics used to describe the "Me" generation in the U.S. apply in China, too. China's young people are much more individualistic than their parents. They're more media-savvy. They grew up with the Internet, navigate information easily, and are readily influenced by it. They're also fairly materialistic: They want to own a car and an apartment in their 20s. Chinese people born in the 1980s have only ever seen an era of abundance. They have no memory of earlier suffering in China.
It's good, actually, because these young people don't want to quickly sacrifice their own dreams for the demands of their extended families. They have bigger dreams, like performing on Broadway or starting an Internet company. However, they also want to be loyal sons and daughters. There are so many value systems coming into China at once—how do you pick and choose, whether to be more individualistic or more Confucian and harmonious?
BBW: What challenges and pressures on young people are particular to China?
HW: The kids [in The Road to Fame] will smoke and talk profanities and seem very free. But when you put them in a different setting, like in front of their parents, they become very nice, obedient kids. The social pressure to pick a stable career path and stick with it remains very strong in China. Most [members] of the 1980s generation in China are only children. They have two parents and four grandparents pampering them, and also burdening them.
Chinese parents put a lot of their own dreams into their kids, and they've been willing to sacrifice a lot. Their kids sometimes lack a competitive spirit because they have had so much handed to them. There is greater conflict if the kids then want to take career risks, or change course. Of course, most parents really just want their children to have happy and stable lives, but they do not always understand their dreams. The gulf between the generations is wider in China, [following such] rapid historical changes. Many of their parents grew up with nothing, trying to save every penny.
BBW: How much flexibility is there for second acts in China—that is, to reinvent yourself if your first wild dream doesn't pan out?
HW: China has recently greatly expanded college enrollment and the pool of qualified graduates. However, the economy as a whole hasn't been able to successfully absorb the talent. Because of the shortage of jobs, there is high anxiety about competition in the marketplace. It makes people risk-averse. Lots of young people want to find money and stable jobs right after college. They don't want to take a leap of faith.
But there are pockets of exceptions. The Internet industry in China is so vibrant—you can quit one job, take six months off to travel or work on another project, then come back and find another job. Because there's more economic possibility, people feel more creative freedom. … Most of this film was shot while I was working a job at Alibaba and then TripAdvisor (TRIP) in Beijing, but I had to quit to find time to edit it.
Before it's here, it's on the Bloomberg Terminal.
LEARN MORE