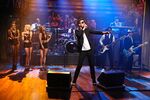 Here's something you don't find in the court files every day: a really apologetic lawsuit.
The superpolite intellectual property litigation (pdf) comes courtesy of singer Robin Thicke, whose Blurred Lines is the summer's monster hit. Thicke and co-composers Pharrell Williams and Clifford Harris went to federal court in Los Angeles on Aug. 15 seeking to preempt legal claims that Blurred Lines borrows too aggressively from late soul legend Marvin Gaye and the group Funkadelic.
"Plaintiffs, who have the utmost respect for and admiration of Marvin Gaye, Funkadelic, and their musical legacies, reluctantly file this action in the face of multiple adverse claims from alleged successors in interest to those artists," the Thicke suit states. "Defendants continue to insist that plaintiffs' massively successful composition, Blurred Lines, copies 'their' compositions." Named as defendants are members of Gaye's family and a company called Bridgeport Music, which owns some of Funkadelic's songs.
The suit states that the Gaye family is complaining about similarities to Got to Give It Up. The Funkadelic song in question is Sexy Ways. The suit requests a judicial order clarifying that "there are no similarities between plaintiffs' composition and those the claimants allege they own, other than commonplace musical elements." The Gaye family, according to the suit, recently "notified plaintiffs that, if plaintiffs do not pay a monetary settlement of the Gayes' claim, the Gayes intend to initiate litigation for copyright infringement against plaintiffs."
The Hollywood Reporter has generously assembled the deferential lawsuit, as well as recordings of Gaye's Got to Give It Up and Thicke's Blurred Lines. So, in this case, you can be your own judge. The relevant legal standard is that the plaintiffs have to show by "a preponderance of the evidence" (that's legalese for "more likely than not") that Thicke's song doesn't violate the defendants' copyrights.
Here's my verdict. The songs are definitely similar: heavy bass line, falsetto vocals, lots of loose percussion and background noise. They're fun and bouncy. And I had no difficulty telling them apart, as Thicke's work sounds like a slightly tinny knockoff of the Gaye classic.
If that constitutes a copyright violation, Thicke and his colleagues are on the hook. But if every pop music copycat had to lawyer up and pay up, no one would ever have the time or money to write "new" songs or get into the recording studio.
Before it's here, it's on the Bloomberg Terminal.
LEARN MORE