Republicans Vote to Punish Networks Over Clinton Programs
John McCormick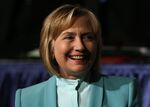 Republican Party leaders unanimously voted to prohibit 2016 presidential primary debate partnerships with NBC and CNN because the networks plan to broadcast programs highlighting Hillary Clinton's life and career.
"These programming decisions are an attempt to show political favoritism and put a thumb on the scales for the next presidential election," said a resolution approved today at a Republican National Committee meeting in Boston.
Party Chairman Reince Priebus has called the shows free advertising for Clinton, who may become his party's biggest hurdle to retaking the White House.
"A network that spends millions of dollars to spotlight Hillary Clinton is a network with an obvious bias," he said to a standing ovation from the RNC members before the vote. "And that's a network that won't be hosting a single Republican primary debate."
CNN Films is planning a feature-length documentary about the former U.S. secretary of state, senator from New York and first lady. NBC Entertainment has a mini-series in the works in which actress Diane Lane, 48, has been cast to play Clinton, 65.
Both networks have said they intend to move ahead with the productions. CNN spokeswoman Jennifer Scoggins said in a statement today that the RNC is jumping to conclusions.
Reserve Judgment
"The project is in the very early stages of development, months from completion with most of the reporting and the interviewing still to be done," she said. "Therefore, speculation about the final program is just that. We encouraged all interested parties to wait until the program premieres before judgments are made about it. Unfortunately, the RNC was not willing to do that."
The film, which CNN commissioned earlier this year, is expected to premiere in 2014 with a theatrical run before airing on the cable network.
NBC, in a statement last month, said its mini-series would "recount Clinton's life as a wife, politician and cabinet member from 1998 to present." The network didn't immediately respond to an e-mail seeking comment today.
Not all Republican leaders share Priebus's concern about the programs.
"These industries can do whatever they want," Senator Marco Rubio of Florida, a potential 2016 presidential candidate, said on Aug. 13 during a stop in Apalachicola, Florida.
Rubio's Take
"There's no surprise that the media is enamored with her or whatever -- at least some of those stations are -- but I haven't had a chance to think about whether there should be a boycott," Rubio said.
The Democratic National Committee mocked the decision.
"While the Republican Party and the RNC continue to have side-show debates, Democrats will continue to fight for a better bargain for middle class Americans," DNC spokesman Michael Czin said in a statement today.
The planned programs underscore the large shadow that Clinton casts, even as she has given no direct sign of preparing for another presidential run after losing the 2008 Democratic nomination to President Barack Obama.
On her behalf, the Ready for Hillary super political action committee is building a database of supporters and donors, lining up endorsements and signing experienced campaign hands. It raised $1.25 million through the end of June, the majority of it in just one month.
Clinton Speeches
In remarks earlier this week on voting rights to the American Bar Association, Clinton sent her most visible signal yet that she wants to be part of a national dialogue by saying she plans to give several policy speeches this year.
She will deliver one in Philadelphia next month on the balance and transparency needed in national security policies. Later this year, she's planning an address on "America's global leadership and our standing around the world."
The RNC vote highlights a broader conversation the party is having about how it should conduct primary debates.
In 2011 and 2012, the party's White House contenders participated in more than 20 debates and candidate forums before and during the primary-election season. Some Republicans say the process weakened the eventual nominee, former Massachusetts Governor Mitt Romney, by pushing him to take positions that, while rallying the party's core supporters, hurt him among independent voters in the general election.
Limited Debates
The RNC in March released a post-election review that called for a shorter primary season and no more than a dozen debates, with the first forum no earlier than Sept. 1, 2015. The first Republican debate in the lead-up to the 2012 election took place on May 5, 2011.
The RNC said in the March statement that the party should consider penalizing candidates through the loss of convention delegates if they don't abide by an approved debate structure.
Priebus also has been pushing the party to revamp its messaging, image and outreach to appeal to women and minorities after Obama won re-election last November with broad support from blacks, Hispanics and female voters.
Republican New Jersey Governor Chris Christie, frequently mentioned as a potential 2016 candidate, made the case yesterday to RNC members that his success in a Democratic-dominated state can offer lessons and be translated to the national level.
As Christie pursues a re-election bid that he's favored to win in November, "we're going to learn things this year that we're going to be able to apply to the races we're going to have in 2014 and beyond," he said in a speech recorded by Bloomberg News.
Citing endorsements he has received from Hispanic and black organizations, Christie said Republicans can make gains among demographic groups that have trended toward Democrats.
"You don't have to sacrifice your base voters to win Latino votes," he said. "You don't have to sacrifice your base voters to win a share of African-American votes. You don't have to sacrifice your base voters to be able to win the building-trade votes. You don't have to sacrifice your base voters to close a gender gap and turn it in the other direction."
Before it's here, it's on the Bloomberg Terminal.
LEARN MORE