NYC Weekend: Adam Ant, Priciest Coin, Balls Benedict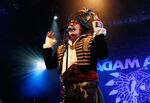 Rocker Adam Ant, the gold Double Eagle -- the world's priciest coin -- and a Werner Herzog mini-festival are among Muse picks for the weekend.
NIGHT LIFE
Adam Ant appears for a two-night gig at Irving Plaza in support of his new album: "Adam Ant Is the Blueblack Hussar in Marrying the Gunner's Daughter" -- it's his musical autobiography. At 17 Irving Place Fri. and Sat. Information: +1-212-777-6800; http://www.irvingplaza.com.
Eric Johnson and Mike Stern close out the six-string pyrotechnics of their Eclectic Guitars tour at the Blue Note in Manhattan. Johnson offers the Grammy-winning "Cliffs of Dover." Shows at 8 p.m. and 10:30 Friday through Sunday at 131 W. 3rd St. Information: +1-212-475-8592; http://www.bluenote.net.
ART
See the only legal Double Eagle in private hands -- and the priciest coin on the planet. The storied gold disc was sold in a 2002 auction for nearly $7,600,000 by a British dealer who swore it had belonged to King Farouk. At the New-York Historical Society, 170 Central Park West. Information: +1-212-873-3400; http://www.nyhistory.org.
View paintings, drawings, photographs and sculptures from the Museum of Modern Art's deep holdings in American art. "American Modern: Hopper to O'Keeffe" runs through Jan. 26, 2014 at the Museum of Modern Art, 11 W. 53rd St. Information: +1-212-708-9400; http://www.moma.org.
OUTDOORS
At Foley Square, chefs will be using a 3,200 pound machine to demonstrate explosively puffed food, like Cheerios -- the first exhibit of the nascent Museum of Food and Drink.
It's part of the last Saturday of Summer Streets, when, almost seven miles of prime New York City asphalt is devoted to pedestrians. Eat, drink, bike, stroll. Don't forget the Rafael Lozano-Hemmer installation in the Park Ave. Tunnel. Information: http://www.nyc.gov/html/dot/summerstreets.
MUSIC
The Mostly Mozart Festival loves Brahms too. Friday and Saturday hear Vadim Repin and Truls Mork play his Concerto for Violin and Cello. At Avery Fisher Hall, Lincoln Center. Information: +1-212-721-6500; http://www.mostlymozart.org.
Also experience the wild side of Mostly Mozart: the International Contemporary Ensemble is in residence this year. On Saturday, hear "Hush" by Phyllis Chen, who plays piano and toy piano. Sunday's four world premieres include pieces by Brazilian-born composer Felipe Lara. At the Clark Studio Theater, 160 W. 66th St. Information: +1-212-721-6500; http://www.mostlymozart.org.
FILM
Immerse yourself in early Werner Herzog during the Lincoln Center Film Society's mini-festival, beginning with Klaus Kinski in "Aguirre, the Wrath of God" (1972) and ending with Kinski as the pathetic soldier in 1978's "Woyzeck." From Aug. 16 through Aug. 22 at the Elinor Bunin Munroe Film Center, 144 W. 65th St. Information: +1-212-875-5600; http://www.filmlinc.com.
WINING & DINING
The just-opened Barley & Grain offers 100 whiskies from around the world and 12 American craft beers on tap, with food to match: cowboy steak with tobacco onions and bourbon demi-glaze and a Wagyu burger on a pretzel bun. At 421 Amsterdam Ave. at 80th St. Information: +1-646-360-3231.
There's a new Meatball Shop on the Upper East Side. It's the first to serve weekend brunch dishes which will include Balls Benedict: eggs, bacon, meatballs, hollandaise on a brioche (coming soon). At 1462 Second Ave. between 76th and 77th Streets. Information: +1-212-257-6121.
(Zinta Lundborg is an editor for Muse, the arts and leisure section of Bloomberg News. The opinions expressed are her own.)
Muse highlights include Lewis Lapham's podcast and Greg Evans on movies.
Editors: Manuela Hoelterhoff, Laurie Muchnick.
Before it's here, it's on the Bloomberg Terminal.
LEARN MORE