MOOC Newcomer Offers Online Business Courses Taught by Pros, Not Profs
Francesca Di Meglio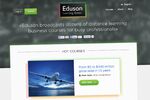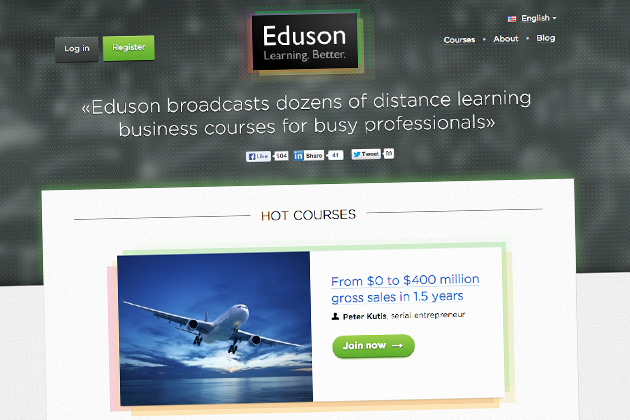 Nowadays you can go back to school without leaving your living room (or getting out of your pajamas), and new online education providers crop up everyday. One of them, an upstart from Russia called Eduson.tv, is focusing on the BRIC markets (Brazil, Russia, India, China) with a model that features business courses taught mostly by real-world practitioners.
Since launching in April, Eduson has attracted tens of thousands of registered users and is adding more every day. As of June, 80 percent of them were from Brazil and India. "Distance learning is a primary solution for those in BRIC nations who need to be prepared for quickly growing economies," says Eduson's chief executive, Elena Masolova.
Masolova, who has degrees in economics and political science, became a believer in distance education after taking an online course with Stanford University while studying in Moscow. Startups like Eduson are old hat for her: She has been a founder or investor in more than 20 Internet startups and was a co-founder of Darberry, a coupon site that was sold to Groupon in 2010.
Her company has a slightly different business plan than others in the crowded market for massive open online courses, or MOOCs. While such providers as EdX and Coursera feature courses taught by top professors from elite universities such as Harvard, Stanford, and MIT, many Eduson classes are taught by practitioners from the worlds of finance and entrepreneurship.
Instructors are a big draw, says Masolova, 28. In the most popular course, Natasha Zagvozdina, a former managing director at Renaissance Capital, builds a financial model, line by line, using an Excel spreadsheet. Serial entrepreneur Peter Kutis teaches a course on taking a business from startup to $400 million in gross sales in 18 months. Dominic Houlder, a manager at Boston Consulting Group before becoming an adjunct professor at London Business School, offers instruction on Strategy for Stormy Times. And Arie Kravtchin, head of equity capital markets in Russia for Bank of America's Merrill Lynch unit, will soon be teaching Roadmap to Successful IPO.
Eduson uses video lectures with slides so that students can learn at their convenience, Masolova says. The majority of the courses are taught in English, but about one-third are available in Russian, Portuguese, and Chinese, and the number of non-English courses is growing, she adds.
Students watch videos that run 10 to 15 minutes each and periodically take exams. If you don't pass a test, you have to take it until you do, or you won't be able to watch the next video in the course. For a three-hour course, you will have about 18 tests. Those who complete a course earn an Eduson certificate. One-third of the content is free. The remaining courses cost from $39 to $99, depending on the length and the instructor. You can view two to five lectures free to decide if you want to buy the content of an entire course.
At least one student was disappointed in Eduson. Marcelo de Arruda of Brazil took three courses on Eduson—Art Of Marketing, Creativity in Business, and Top 10 Mistakes Startups Make—and he found them to be pretty basic. A university student of public relations and business, de Arruda says the courses were "decent," but he would recommend the course How To Build A Startup: The Lean Launchpad, by Steve Blank on Udacity, over the ones he found on Eduson. Masolova says the company offers courses at all levels, from beginner to advanced, and that the level is usually clear from the description.
Masolova says the company is in talks with several companies interested in buying licenses for employees, but a deal hasn't been struck yet. While Eduson is earning money, Masolova says the goal is to become operationally profitable by year's end.
Join the discussion on the Bloomberg Businessweek Business School Forum, visit us on Facebook, and follow @BWbschools on Twitter.
Before it's here, it's on the Bloomberg Terminal.
LEARN MORE