For Women, Saudi Arabia's New Metro May Mean Greater Mobility
In Saudi Arabia, women are not allowed to drive, but a new metro system will allow them to travel without escorts
by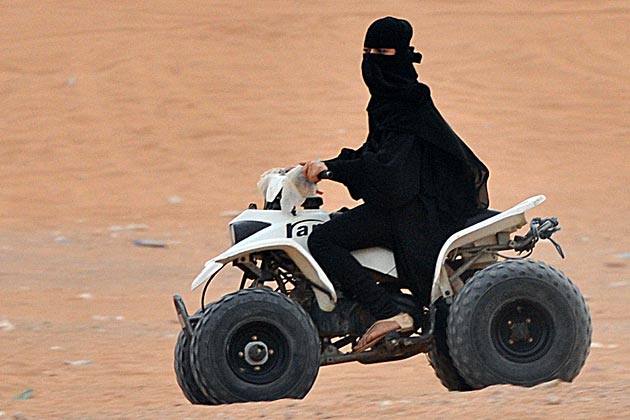 Public transportation has been found to reduce traffic congestion, cut pollution, fight obesity, and boost economic productivity by millions, even billions of dollars. In Riyadh, where Saudi Arabia plans to build a $22 billion subway system, it may also unleash social change. In particular, it will allow women to travel without male escorts.
Without the right to drive, Saudi women are largely house-bound and highly dependent on male escorts. Violating the religious decree against driving is punishable by arrest; two years ago, a Saudi court sentenced a female activist to 10 lashes after she posted a YouTube video of herself behind the wheel.
Scheduled for completion in 2019, the Riyadh metro may provide far greater independence. Women and children will have their own compartments, separate from men, allowing them to travel the city safely and without escorts and controls, according to Spiegel International. The metro system will include six lines—both above and below ground—that extend 109 miles and fan out across the city.
In addition to the Riyadh metro, Saudi Arabia also has subway projects underway in Mecca and Jeddah. Meanwhile, Riyadh's Princess Nora bin Abdulraham University, an all women's school, will soon get its own rail line, which will reportedly be operated by an all-female staff.
All this is further evidence that the desert kingdom's women's rights movement is slowly gaining ground. The kingdom last year allowed a female athlete to participate in the Olympics for the first time and in 2011 said women will be granted the right to vote in 2015. Recently, 30 women were appointed to Saudi Arabia's highest consultative body, the Shura Council, which drafts laws and advises the king.
Still, the country's religious police may still find ways to curtail female mobility. Earlier this year, Saudi women were granted the right to ride bicycles—"but only in circles," as the Guardian put it. When taking to two wheels, they must wear head-to-toe coverings and be accompanied by a male relative. They're also required to stay in parks and recreational areas and to cycle only for the sake of entertainment. Not transportation.
Before it's here, it's on the Bloomberg Terminal.
LEARN MORE