Dell's Best Bet for the Future Is Clear. Now, How Will It Get There?
by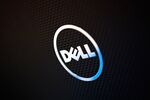 It is painfully obvious that Dell's days as a PC powerhouse are just misty memories, a point that Thursday's earnings report drilled home. Now the company only has to find out what it will become—and its two largest shareholders have very different ideas about that.
The company reported a 72 percent drop in net income, largely due to a weak PC market that's hurting its competitors as well. The silver lining for Dell is that its share of the shrinking market is growing. According to IDC, the company's PC shipments fell by 4.2 percent in the second quarter, as compared with the year before—a small-enough drop to increase its market share to 12.2 percent.
So the company is not facing an imminent financial crisis. But it is facing an identity crisis. To the extent Dell has a future, it is probably not in the PC business. But revenue related to data centers, servers, and networking is growing rapidly. As a whole, enterprise computing saw an 8 percent increase in revenue, to $3.3 billion, in the most recent quarter. That's still only about one-third of what the company brings in for its end-user business, though, indicating that the company still has a major transformation ahead.
For much of this year, the company has been embroiled in an awkward public debate about how to do that. Michael Dell, the company's founder who also owns 15.6 percent of the company, has been trying to take the company private, paying slightly more than the current market price to buy out the other stockholders, plus a dividend thrown in as a sweetener. Once he has full control, Dell says he would work on creating customized computing solutions for businesses, but also expanding the company's PC and tablet businesses. Once free of impatient Wall Street investors, he says he will pour money into acquisitions and research and development.
This would likely be an easier sell if Carl Icahn weren't the company's second-largest shareholder. Icahn, who owns 8.9 percent of Dell, believes that things aren't as bad as the current stock price indicates and that Michael Dell is trying to lowball him. While the drop in profit would seem to weaken his case, Icahn can point to the bullish numbers in the enterprise business as an indication that Dell's prospects as a public company aren't quite so bleak.
Whether Dell, the company, will undertake its move further into the enterprise field under the solo guidance of Dell, the man, will be decided next month. The shareholders will vote on the buyout play on Sept. 12.
Before it's here, it's on the Bloomberg Terminal.
LEARN MORE