pursuits
Così's New CEO Admits the Service Stinks
The sandwich chain, rocked by management turmoil, has seen employee morale suffer
By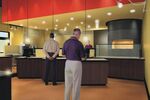 Those tasty free bread samples just aren't luring enough customers to Così restaurants. Same-store sales fell 2.7 percent last quarter, reflecting what even top management concedes are the struggling sandwich chain's many problems and lackluster service.
"I think the real issue is Così's complicated history and lack of true success as a business," Stephen Edwards, who was appointed the chain's chief executive in June, writes in an e-mail. What exactly does he mean by that? "The company has never been profitable and leadership has rarely been consistent," he says.
Annual revenue at Così, a Deerfield (Ill.) chain of 124 restaurants, has declined every year since 2009. Traffic fell 5 percent last quarter, and many of its stores are unprofitable. During an earnings call on Thursday, Edwards said, "Service is where we are experiencing the greatest shortfall and where we will be focusing the majority of our efforts." He says the service is particularly lacking at company-owned restaurants. Franchisees are doing better job.
Indeed, employee satisfaction levels at the chain are low. On Glassdoor.com, Così scored only 2.6 out of 5 in employee reviews. That's a lower score than McDonald's (3), Subway (3.1), or KFC (3.1). Some of the comments: "Benefits are almost nonexistent," one person wrote. Another former Così employee complained that the managers "fire employees for stupid reasons they don't know how too talk to their employees." Another said, "No benefits, management plays favorites and is catty."
Edwards explained on the call: "We have a culture that's lost engagement with the process of serving food to people in a hospitable way, and we get a number of remarks from customers about how much they love our food and our products, but they've just been disappointed time and time again by the service or the experience that they've received in the store." The company is now looking to boost customer engagement, offer friendlier, hospitable service, and improve speed. It says that it has seen positive results so far at stores where the staff and managers have been retrained.
Turning the business around will require more than a few employee classes, however. "We have excellent training systems, but training will not ensure a positive attitude or great customer service," he tells Bloomberg Businessweek. One factor is that Così has experienced frequent management changes—Edwards is the company's fourth chief executive (which includes one interim CEO) since 2011. The lack of stability, he says, has drawn the focus away from fixing problems in customer experience. "Frankly, our team members lost the love of serving great food to people in a fun and hospitable environment," he says. "This results in poor service and lower job satisfaction."
Before it's here, it's on the Bloomberg Terminal.
LEARN MORE