Cairo's Day of Rage
Alexia Underwood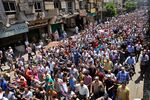 The nightly curfew will begin in a few hours, but my middle-class neighborhood in Cairo is already on lockdown. State security forces occupy many squares and have blocked off major town thoroughfares with tanks and barbed wire. After the noon prayers, almost all shops closed their doors. An eery, suffocating quiet reigns.
I've spent most of today hunkered down in my living room, checking Twitter, refreshing news sites, and flipping between TV channels. My air conditioning is broken, so I've been reduced to staving off the sweltering August heat with a single fan. This morning, my husband and I cooked pancakes to distract ourselves from all of the political unrest. I've spoken to a few friends across the city who are holed up in their apartments, doing equally mundane things; one person heard gun shots outside her apartment but also observed that the tailor across the street was still ironing clothes in front of his shop.
The silence here contrasts sharply with the images on the TV screen, which shows crowds of Muslim Brotherhood protesters marching, converging on bridges, and throwing rocks at unseen security forces all across the city. Some are armed. The number of clashes throughout the country is beyond count.
Supporters of the deposed president, Mohamed Morsi, have declared today a "Day of Rage" in response to the carnage yesterday, when state security forces violently dispersed protesters from their encampments around the city. The military used live ammunition, to horrific results. Mosques were turned into makeshift hospitals and morgues. Journalists were attacked. In response, supporters of the Muslim Brotherhood attacked the minority Christian community and set several churches on fire. By the time the tear gas cleared, more than 600 people were dead—the vast majority pro-Morsi protesters—and thousands injured. These numbers continue to climb.
But what is perhaps equally disturbing is the polarization of the official narratives that have emerged these past few days. Egyptian media decries the protesters as terrorists, repeating rhetoric that state media used against protesters during the uprisings in 2011. In the wake of the violence, Prime Minister Hazem Beblawi said that state security forces showed restraint and acted within their means to restore stability. When Vice President Mohammed ElBaradei resigned in response to yesterday's carnage, he was quickly denounced by members of his own party, prominent political figures, and journalists.
The Muslim Brotherhood, for its part, says that more than 2,000 of their members were killed; one man I spoke with yesterday described the scene at Mostafa Mahmoud mosque, as "Hiroshima." They talk of martyrdom, retribution, and attacking state institutions.
People over the past few days have said that the carnage has left them discouraged about the future prospects for national reconciliation and a fair and inclusive democratic government. Though many Egyptians reject the polarizing state narrative and incendiary rhetoric of the Muslim Brotherhood protesters, they remain paralyzed in the middle, unable to take steps toward dialogue while bloody clashes play out across the city.
As night and the curfew approaches, our neighborhood is no longer silent. The occasional crackle of distant gunfire and buzz of helicopters intermingle with the call to prayer, rising from loudspeakers across the city.
Pro-Morsi demonstrators remain on the streets, and tear gas and smoke are rising near fresh clashes on Shubra Street. Reports are coming in of citizens attacking protesters. The King of Saudi Arabia just released a statement expressing his support for Egyptians' fight against "terrorism."
Members of the new interim government remain confident that this campaign of suppression is working, but other Egyptians I've spoken to aren't at all sure what comes next. Many, though, feel that a peaceful, democratic resolution is further off than ever before.
Before it's here, it's on the Bloomberg Terminal.
LEARN MORE