Banking and Energy Salaries Surge at Texas's McCombs School
Elizabeth Rowe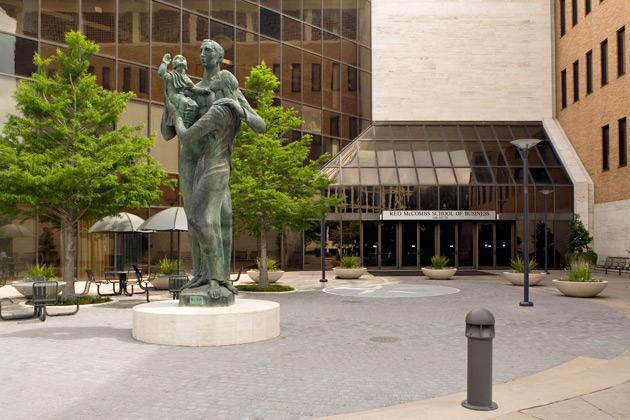 This year's preliminary salary data for the University of Texas McCombs School of Business holds good news for MBAs. Salaries for the class of 2013 are up modestly, with the average base salary rising about $3,000, slightly less than 3 percent over last year's preliminary average salary, to $110,251. Higher salaries in several industries—including consulting, commercial banking, and energy—are driving the trend.
While salaries are slightly down for MBAs starting out at investment banks, the news isn't all bad for MBAs going into financial services. Salaries are rising in commercial banking, according to the report, which covers job placements through June 16: Class of 2013 graduates are making, on average, $99,375, up from $87,733 last year, an increase of more than 13 percent.
According to Stacey Rudnick, director of McCombs's MBA career management office, banks are offering more attractive salary packages in an attempt to compete with salaries in consulting, which was the most popular industry for McCombs MBAs this year.
There was considerable growth in the number of students going into consulting this year: Thirty percent of accepted job offers were in the consulting industry, compared to 27 percent at roughly the same time last year. Consulting salaries are also up: members of last year's class taking consulting jobs had an average starting salary of $124,288, while this year the figure is $128,698, an increase of 3.5 percent.
While only a few more McCombs grads went into the energy industry so far this year—7 percent of job acceptances vs. last year's 6 percent—they're making considerably more money. The average starting salary was $110,616, up from the $101,609 last year, an increase of 8.9 percent.
"We see that a lot of students are coming to UT because they want to focus on a career in the energy space," Rudnick said. "[We're] trying to get the best and brightest into big oil and gas firms, as well as energy finance and clean technology." Rudnick added that many McCombs students are working in the energy business even if they aren't working at an energy company, for example, those students who go into energy consulting.
If this year is anything like last year, the preliminary numbers are likely to change when the school reports its final statistics in mid-October, as more graduates report job offers and salary data to the school. Last year, for example, the percentage of  graduates taking jobs in consulting fell over the summer as students continued to report job acceptances in other industries.
Join the discussion on the Bloomberg Businessweek Business School Forum, visit us on Facebook, and follow @BWbschools on Twitter.
Before it's here, it's on the Bloomberg Terminal.
LEARN MORE