A Bump in the Road for Fox Sports 1
By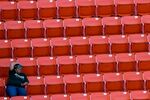 In February, when Fox Sports 1 was still mostly a placeholder for Rupert Murdoch's fantasy of taking down ESPN, analysts at RBC Capital Markets handicapped its prospects in a report titled Moneyball: The Current State of the Sports Media Landscape. The report noted that the venture doesn't need to match ESPN's astronomical $5-per-subscriber monthly fee it charges cable distributors to be a big moneymaker for News Corp. The network just needs to convince cable carriers to pay more for Fox Sports 1 than they currently do for Speed, the channel it will replace starting this Saturday.
As RBC outlined the task, Fox should take the 22¢ per month it was getting for each of the 81.4 million homes with Speed and boost that to $1 per month for 90 million homes with Fox Sports 1, which would add up to a net annual gain of $865 million. That leap, the report projected, "could be reasonable in the not too distant future."
Yesterday that future became a little more distant. Sports Business Journal reported that five major cable carriers—Cablevision, Cox, DirecTV, Dish Network, and Time Warner Cable—are refusing to pay more than what they did for Speed. In a scramble to reach the 90 million subscribers the network has been touting (and may have promised to Major League Baseball and the Big Ten, among others), Fox appears willing to accept 23¢ per subscriber for now. Comcast and Charter Communications already had new deals to carry Fox Sports 1 at undisclosed rates. Comcast, according to Sports Business Journal, likely had protection against paying more than any competitor.
So the dream of an $865 million boost in fees remains just that. Fox may get there eventually, but first it will have to show it can get viewers in those 90 million homes carrying Fox Sports 1 to actually tune in. If it doesn't, expect more talk of a "sports cable bubble."
Before it's here, it's on the Bloomberg Terminal.
LEARN MORE