Wal-Mart Is Pinched by the Bottom of the Pyramid
by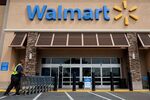 There's an increasingly clear dynamic in U.S. retail: Companies that cater to consumers who are doing just fine are doing just fine. That group includes those selling fancy pickups (Ford), organic heirloom tomatoes (Whole Foods), nonfat lattes (Starbucks), and mink wraps (Michael Kors).
Retailers that rely, at least in part, however, on the bottom of the socioeconomic pyramid are still struggling. That was the message this morning as Wal-Mart, the world's largest retailer, reported financial results well below expectations.
The numbers weren't particularly shocking. Wal-Mart still made a hefty chunk of money, $4.1 billion, and improved sales by 2.3 percent. Revenue at U.S. stores open more than 12 months fell slightly, however.
Wall Street, meanwhile, had expected more. The reason for underperforming, the company said, was 2 percentage points—specifically, the 2 percentage-point increase in payroll taxes that hit U.S. consumers in February.
Wal-Mart predicts that consumers will remain thrifty. It cut in half its forecast for full-year sales growth, dialing its projection back to no more than 3 percent. "Our expectations in the back half of the year are through the lens of cautious consumer spending," Chief Financial Officer Charles Holley said on a conference call this morning.
The Wal-Mart results underscore just how bipolar the U.S. economy has been of late. Since the end of February, the Standard & Poor's 500 Index has climbed 10 percent. But people living paycheck to paycheck and worrying about a 2 percentage-point tax hit are unlikely to be giddy about stock gains.
Before it's here, it's on the Bloomberg Terminal.
LEARN MORE